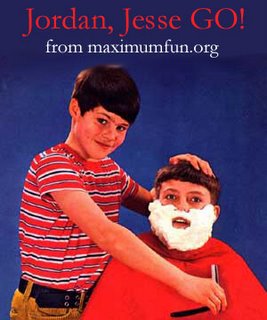 This week on the show Jordan and Jesse talk with Adam Kempenaar from the podcast Filmspotting and we hear about Jesse's new dog – basically there aren't a lot of scary things.
THIS WEEK'S ACTION ITEMS:
* What was your worst holiday ever and why? Tell us the story!
* It's the semi-final of the battle of the animals. It's Hippo vs. Bear!
CONTINUING ACTION ITEMS:
* Review the show on iTunes.
* Do you have a dispute Judge John Hodgman can solve on a future broadcast? Email it to us! Put Judge John in the subject line.
* Have personal questions for Jesse and Jordan? Call 206-984-4FUN and tell us what they are!
* Does It Hold Up? JJGo's new action item!! Tell us about the things you liked in your youth that are still entertaining in 2007! Call 206-984-4FUN!
* Would you like to play Would You Rather with us on a future episode? Email us or give us a call at 206-984-4FUN.
Call 206-984-4FUN to share your thoughts on these ACTION ITEMS.
Subscribe in iTunes
Podcast Feed
Discuss the episode on the forum
Download This Episode
Hear This Episode Now

Our theme music: "Love You" by The Free Design, courtesy of The Free Design and Light in the Attic Records