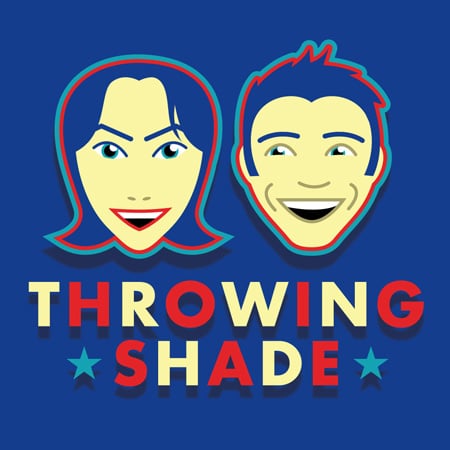 Please Welcome: Throwing Shade
I'm so excited to announce the latest member of the MaxFun family: Throwing Shade!
Throwing Shade is a weekly comedy show hosted by Erin Gibson and Bryan Safi. Erin and Bryan first worked together on Current's hilarious and dearly missed infoMania, where Bryan hosted "That's Gay!" and Erin held down "Modern Lady," looking at the funniest parts of the awful parts of being gays and ladies in America.
They've taken those themes and brought them to Throwing Shade, where they tear apart the most embarrassing and horrible parts of our culture's sexism, homophobia and general wrong-headedness with wit and charm to spare. Seriously: these two are just exceptionally pleasant, funny people who also happen to not take any shit from anybody.
We've been secretly fomenting our plan to associate for a couple months now, but we're finally ready to announce it, and I couldn't be happier. Bryan and Erin are absolutely brilliant, and their show is crazy hilarious. And for God's sake BRYAN HAS AN EMMY!
HOW MANY EMMIES DO YOU HAVE?! ALSO: HOW DO YOU SPELL EMMY IN ITS PLURAL FORM? ALSO: WHY AM I YELLING?!
Anyway, subscribe now, and donate in the MaxFunDrive so we can get these guys a great big pile of money for the great work they're doing. If you don't, you're almost certainly a sexist homophobe. (My baseless, irresponsible accusation, not theirs.)