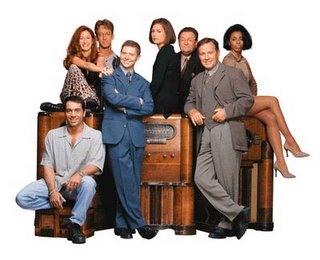 It took NBC/Uni quite a while to get Newsradio DVDs in the pipeline, and when they did, series creator Paul Simms supposedly pulled it out of the pipeline for a while to add extras, but they're here, and they're wonderful. Season 3 just became available

, and Season 1 & 2

have been available for some time.
Newsradio was an astonishingly underappreciated show in it's time. It had a loyal and significant following, but it was overshadowed by Seinfeld in the press and on NBC. Seinfeld was a game-changing show, but Newsradio may have been the second best sitcom of the 90s.
On last week's Sound of Young America, Andy Daly talked about how difficult it is to be a great straight man. Dave Foley's effortless work on Newsradio made it look easy. The best TV straightman since Newhart, says I. It's tough to get laughs working against the wackos, and Foley did it consistently.
And that's to say nothing of the wonderful work done by the rest of the cast. Phil Hartman was of course the most heralded among them, but everyone else deserves kudos as well. Andy Dick did the most consistently excellent work of his life as dim-witted cub reporter Matthew. Stephen Root was stunningly fantastic as the bombastic boss Mr. James. Maura Tierney and Khandi Alexander both got tremendous humor out of their sometimes-straight-woman, sometimes-nutty-woman roles. Even final season additions Jon Lovitz and Patrick Warburton distinguished themselves.
I had the chance to drive Dave Foley around for SF Sketchfest 2006, and we talked a bit about the show. He described it as the best job he'd ever had, and a joy to be a part of. It was certainly a joy to watch.