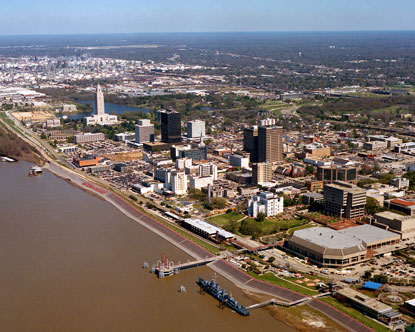 Baton Rouge, pictured before the invasion of awesomeness
I want to extend a hearty welcome to the Sound of Young America family to WRKF in Baton Rouge, Louisiana, KNPR-2 in Las Vegas, Nevada and KUT-2 in Austin, Texas!
WRKF is already airing the show Sundays at 6PM. If you're in Baton Rouge, you can find WRKF on the dial at 89.3 FM.
If you're in Vegas or Austin, you'll need an HD Radio to hear the show. HD Radio is a digital radio technology that allows for digital quality audio and multiple streams of programming on one frequency. In both places, we'll be on substations of the main station.
HD Radios have been the recipient of hundreds of millions of dollars in radio advertising, but rarely is one spotted in the wild. AND SO: free Sound of Young America t-shirt to anyone who emails me a picture of them with an HD radio in some place that's obviously Las Vegas (casino, whorehouse, cleaner simulacrum of another city, etc) or Austin (barbeque restaurant, alt-country concert, room full of people using the phrase "island of blue in a sea of red" etc). Ready, steady… GO!
If you don't get TSOYA where you live, ASK FOR IT!