New Show–We See Each Other: The Podcast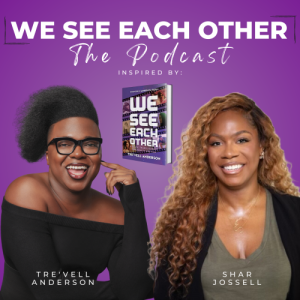 Award-winning journalists and all-around wonderful people Tre'vell Anderson and Shar Jossell explore the history and present reality of trans visibility on-screen in their new limited series, We See Each Other: The Podcast. The show is a companion to Tre'vell's debut book, We See Each Other: A Black, Trans Journey Through TV and Film. Tre'vell and Shar speak with trans artists and activists throughout the series, uplifting trans perspectives on how representation in TV and movies has shaped folks' lives.
Coincidentally (okay, okay, it's not), both the podcast and the book dropped today! So:
Two episodes of this important show are out right now! Go subscribe, then listen to Episode 1 to get a primer on the series, and enjoy a conversation with the legendary DJ Lina Bradford in Episode 2!
---
A Few Post-MaxFunDrive Updates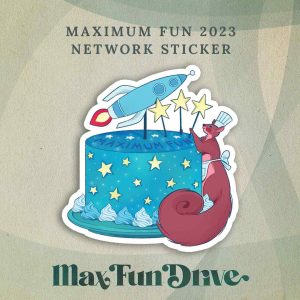 MaxFunDrive gifts and stickers are in production!
We've sent the MaxFunDrive thank-you gifts and charity sale stickers to production! We'll reach out again when we're closer to shipping so you can make sure your mailing address is up-to-date. If you're interested, here are some more details.
Submit your idea for the MaxFun Foley library!
During the drive, we reached our highest milestone, so we're putting together a community library full of sound effects! So, what do you want to hear? Noodle slurping? Squawks? That vintage jalopy a-OOO-ga? (I do a pretty good version of that, tbh.) Submit your ideas at maximumfun.org/foley. 
The Yumbotron: a MaxFun community recipe
Our crowdsourced recipe is ready for sampling. During MaxFunDrive you fine folks made a community recipe, picking the type of dish, the ingredients, and what to name it. The recipe will be added to our MaxFun Family cookbook, but we wanted to share it with everyone, so, without further ado… The Yumbotron. 
---
Upcoming live shows
As a reminder, you can find upcoming live shows on our calendar. This month, we've got live events from We See Each Other, Triple Click, MBMBaM, The Adventure Zone, and even one from our old pals of Mission to Zyxx.   
---
In the chat with HQ: Music to clean to
We're all spring cleaning now that the Drive is over. This is what HQ staff are playing in the background. (We've also really been enjoying playing Music League, so we've got music on the mind lately).  
Gabe Mara: Stir It Up by Patti LaBelle. I rearranged my living room so that I no longer have a floating sofa! It's looking more and more like an IKEA showroom every day.
Christian Dueñas: Honestly the albums that see the most play when I'm cleaning are Alvvays and Collection by Soccer Mommy.
Valerie Moffat (who is spring cleaning in anticipation of the arrival of a tiny kitten!): Carly Rae Jepsen's album Dedicated was produced under the working title 'Music to Clean Your House To,' and that's my go-to for cleaning my house.
C.N. Josephs: I like to listen to a playlist of my favorite Green Day songs–I know all of the lyrics to all of them, so I can sing along and dance as I clean and it keeps me motivated to keep going!
Bryanna Paz: If I want to have an out-of-body experience while I'm cleaning, I'll play this.
Stacey Molski: While prepping for the release of We See Each Other: The Podcast, I dove into some DJ Lina Bradford music, and this set made organizing the apartment a lot more enjoyable!
---
Hope you get to enjoy some new shows, music, and flowers this spring (or whatever season it is by you)!
Thanks again!
– Stacey and all your friends at MaxFun
Want to get news like this in your inbox? Sign up for our newsletter at maximumfun.org/newsletter. We usually send an email once a month, but we have a LOT of exciting stuff happening, so it will be more frequent this spring.