The 2019 MaxFunDrive – our annual pledge drive – was a huge success, thanks entirely to the generosity of the MaxFun community. During the MaxFunDrive, more than 25,000 new and upgrading monthly members pledged to support their favorite podcasts on an ongoing basis. As in previous years, we put our limited-edition MaxFunDrive enamel pins on sale for all $10+ monthly members after the pledge drive, and announced that all proceeds from that sale would go to the National Court Appointed Special Advocates (CASA) / Guardian ad Litem (GAL) Association. And as in previous years, the generosity and enthusiasm of this community totally knocked our socks off.
National CASA/GAL helps kids who are going through a very difficult time – many of whom are in the foster system – by pairing them with well-trained volunteers who will advocate for them when they need it most. Tara Perry, CEO of National CASA/GAL, explains a bit more about the organization: 
The National CASA/GAL Association for Children believes that every child who has experienced abuse or neglect deserves to be safe, have a permanent home and the opportunity to thrive. We work with our 950 member programs across the country to pair children with a court appointed special advocate (CASA) or guardian ad litem (GAL) volunteer – caring, compassionate individuals who advocate in court for a child's needs and best interests.
On December 24, 2019, Maximum Fun, headquartered in Los Angeles, sent the National Court Appointed Special Advocates / Guardian ad Litem Association a donation of $109,025.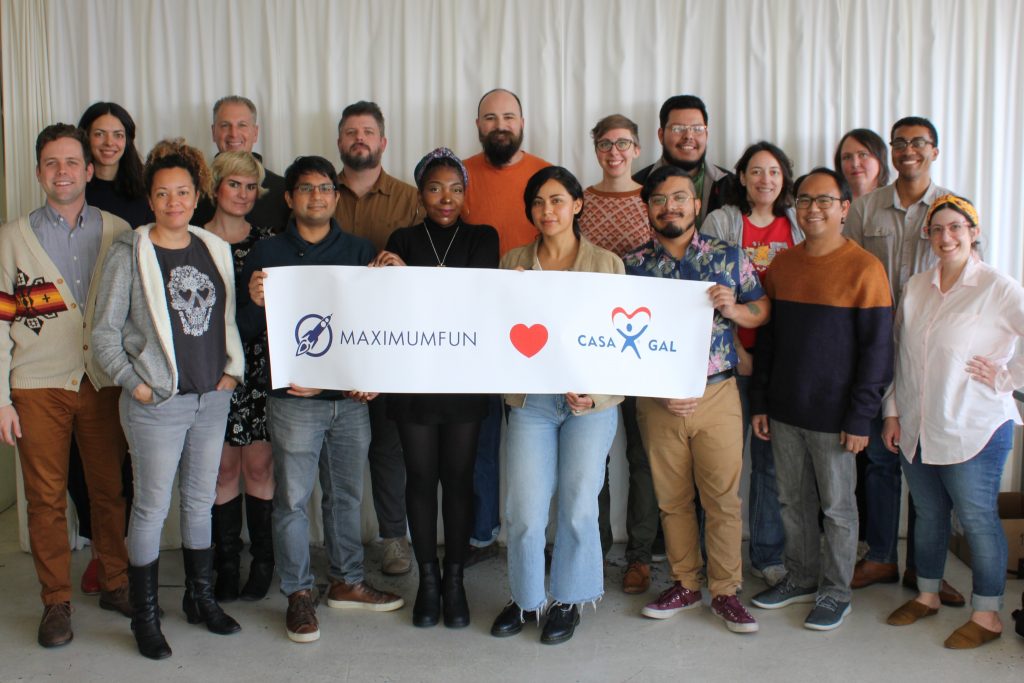 Maximum Fun staff showing their love for National CASA/GAL
The donation arrived at National CASA/GAL right in the height of the holiday season. Tara Perry reflected:
The holidays should be a time to make happy memories with family. Unfortunately, there are hundreds of thousands of children who are spending the season attending court hearings, adjusting to new foster homes and transitioning to new schools. CASA and GAL volunteers make sure these children don't face that chaos alone.
We are so proud to be able to support the great work National CASA/GAL does for children across the country every day, and we are so grateful to the Maximum Fun community for their unending generosity. Our audience is a special group of folks who, yes, love podcasts, but also truly love their communities and want to help others in any way they can.
We want to thank Maximum Fun and all their amazing members for this incredible gift. Your generosity will help National CASA/GAL and our nationwide network recruit, train and support more volunteers so we can reach more children in need.
Thanks to all you MaxFunsters out there for being a part of this incredible community. You have always reinforced the importance of advocating for folks who need a little extra support. And thank you to National CASA/GAL and all of your volunteers for your extraordinary work helping children and young folks navigate a difficult and confusing period of their life. Everyone at Maximum Fun is honored that our community can play this small part in helping you help others.
If you'd like to join the Maximum Fun community in donating to National CASA/GAL, you can help support some of our nation's most vulnerable children by making a contribution at: https://give.nationalcasagal.org/maxfun.
If you'd like to get news about Maximum Fun in your inbox, sign up for our newsletter.