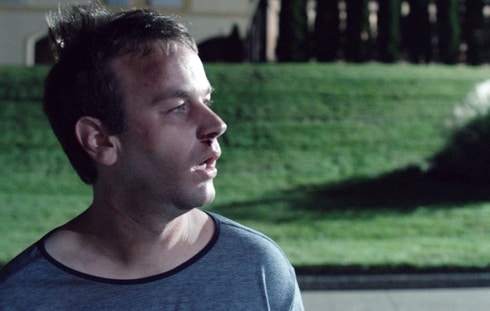 Some stories have such great charm and relevance that they can be told over and over again in many formats – and still win your heart. Certainly that's true of your traditional fairy tales or the Shakespeare classics; but there are also a few sweet modern tales that hold up well in multiple formats. One such story, in my view, is Mike Birbiglia's delightful "Sleepwalk with Me". It's a timeless story of one man's fear of love and maturity; but it is told – with terrific humor and stark honesty – through a chronicle of his struggle with a strange and dangerous sleepwalking condition.
I first heard Birbiglia tell the story on a 2008 episode of This American Life called "Fear of Sleep." If you haven't yet heard that episode, you must obtain it immediately. It will do nothing less than restore your faith in the power of solid storytelling.
The story later become so beloved that Birbiglia adapted it to a one-man show and then into a book. Now, with help from Ira Glass and This American Life producer Alissa Shipp, Mike is bringing the story to film.
Birbiglia directed the movie, and wrote it with Seth Barrish (who directed the stage version), Joe Birbiglia and Ira Glass. The film stars Mike, Lauren Ambrose, Jim Rebhorn and Carol Kane and was produced by Jacob Jaffke.
I've never been to Sundance – and probably won't make it this year – but I've never been more jealous of those who will be there. This film is going to be terrific.