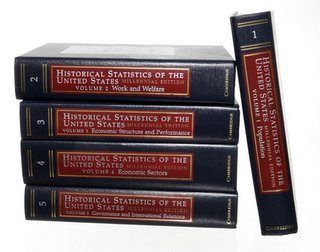 I found this piece in the NY Times fascinating. The Historical Statistics of the United States is 5,000 pages of data about this country… can you imagine?
Among the information inside:
Fewer than 1 in 10 black children under 5 live with both parents; workers with the highest hourly wages now work the longest hours; there are more religious workers (also bartenders, gardeners and authors) than ever recorded, and more shoemakers than at any other time since the Civil War; only half of Americans have access to fluoridated water; a growing share of poor people live in the suburbs; philanthropy compared with the gross domestic product has been declining since 1960; more Protestants and Jews say they attended religious services within the last week than at any time in the last 50 years; the nation is producing record amounts of broccoli; it took four days on average to travel between New York and Boston in 1800; attendance at horse-racing tracks peaked in 1976, but rodeo attendance is at an all-time high; and the proportion of people who have no opinion in presidential approval polls is the lowest in a half century.