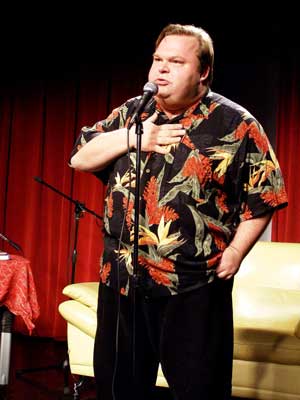 MaxFunPal
Mike Daisey
, last heard on
our Live in NYC show a year and a half or so ago
, has a brand new show. Given the title, "
How Theater Failed America
," I'm guessing it has less severed limbs and blood-soaked snow than the story he told on our air, but it still sounds pretty great to me. I saw Mike, (who I have decided is the official Monologuist of MaximumFun.org), perform in LA a month or so ago, and he was just as hilarious and electrifying as he was in New York.
Here's the details:
LIMITED ENGAGEMENT
Starts May 16th–Six Weeks Only
Fridays and Saturdays @ 7:30pm,
Sundays @ 7:00pm
BARROW STREET THEATRE
27 Barrow Street @ 7th Ave. South
Tickets: telecharge.com or 212.239.6200
I'm not going to reprint all of Mike's rave reviews, so let's go with a favorite, from the New York Times: "A sardonic rebuke to the corporate types who hold American theater hostage and a powerful sense of the wonder of theater. The entire room was quietly rapt…a remarkable performer."
And guess what?
Mike's extended a special offer for MaxFunsters… use this direct link to the online box office, and use the code MDHTFA and you can get twenty dollar tickets to the show. That's a hell of a price. And you can call 212-947-8844, use the same code, and get the same sweet sweet deal.
(Above photo: Mike at TSOYA Live, shot by Anya Garrett)