First order of business: Mel Gibson has totally lost it. Not cool.
Second order of business: My friend Damon from the amazing band The Eternals* passed along some links to the BBC show The Mighty Boosh. The clip is funny, but I don't know a lot about the show, as I don't live in the UK.
So today's question is: What is the deal with The Mighty Booosh?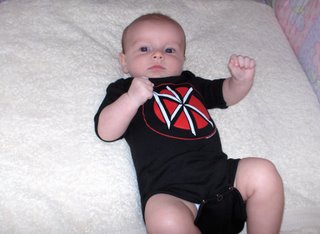 And these links are in honor of the occasion of meeting my chubby baby niece (left) for the first time: Google Search Results for Crying Babies and an article in which photographer Jill Greenberg defends her series of photographs in which she made babies cry.
The article's highlight–"Kid models aren't very expensive—not as expensive as monkeys, for example."
*and just a touch more about the Eternals. Their label is having a 50% off sale on all their CDs for a limited time. Go and kick the tires of an Eternals CD for bargain basement prices. Or, I just ordered a bunch of their remix CD High Anxiety, and the first, oh, five people who email me (joe DOT garden at gmail dot com) will receive a free copy if they PROMISE to pass it along to someone who might like it if they themselves do not.