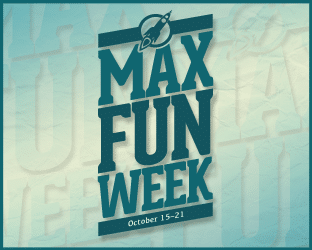 Have you been brushing up on your MaxFun knowledge? Working hard to expand the breadth and depth of your expertise? Well, today is the day it all pays off. We'll be posting trivia questions for all of your favorite Maximum Fun shows throughout the day on the official MaxFun Twitter account (@MaxFunHQ). The first correct answer earns the answer-er an entry into a drawing for some cool MaxFun swag, courtesy of our friends at Topatoco. Be sure to check out the MaxFunStore, because we already added some awesome new stuff, and more new items will be added today!
If you want to know what other MaxFunWeek challenges we have in store for you, you can find them all here! Maybe you want to get a head start on your rendering of the Adventure Zone adventurers? Or start pondering your favorite episode?
Today's Reddit Ask Me Anythings
Today also kicks off our series of Reddit Ask Me Anythings, so get those questions ready! We'll be updating this page with links to the AMAs once they're up. A full list of the week's planned AMAs can be found here.
Wednesday, October 15th
Theresa Thorn and Biz Ellis (One Bad Mother) – 12:00-1:00 PM PDT
Nate DiMeo (The Memory Palace) – 1:00-2:00 PM PDT
Kevin Allison (RISK!) – 2:00-3:00 PM PDT