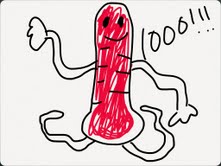 We did it!! We met our goal of 1,000 new members for this year's pledge drive!! Our current total is 1031. THANK YOU!! You are a force for good in this world! And true pioneers in the movement to create and support top-quality independent media.
For those of you who haven't donated, however, we still want you to join in the fun and excitement! We are still hosting some terrific giveaways and have wonderful thank you gifts!
More importantly, we've really grown to enjoy your company and want you to stick around.
Due to popular demand, Lindsay even drew a little dancing success thermometer for you! Isn't he cute?