The 2017 MaxFunDrive is fast approaching (it starts this Monday, March 20th, in fact!). What is the MaxFunDrive? It's the best time to show your support for your favorite MaxFun shows by becoming a monthly member or upgrading your monthly membership. It's also the time of year when we really up our ante in terms of delivering truly excellent content. And you know what else?
It's when we offer the best, most excellent and exciting gifts. And I think we really outdid ourselves this year.
To be eligible for these gifts, simply sign up as a new MaxFun member or upgrade your existing MaxFun membership between March 20th and March 31st. Bam! AND these gifts are cumulative, so you'll get everything at the level you join at or upgrade to, PLUS everything below that level. Here's what we have for you this year:
If you start or upgrade to a $200 monthly membership, we'll cover your MaxFunCon 2018 registration. That's right — everything you need to have the best weekend of your life in Lake Arrowhead, California is on us: food, lodging, entertainment, drinks, and swag. Basically, get yourself there, and we'll take care of the rest.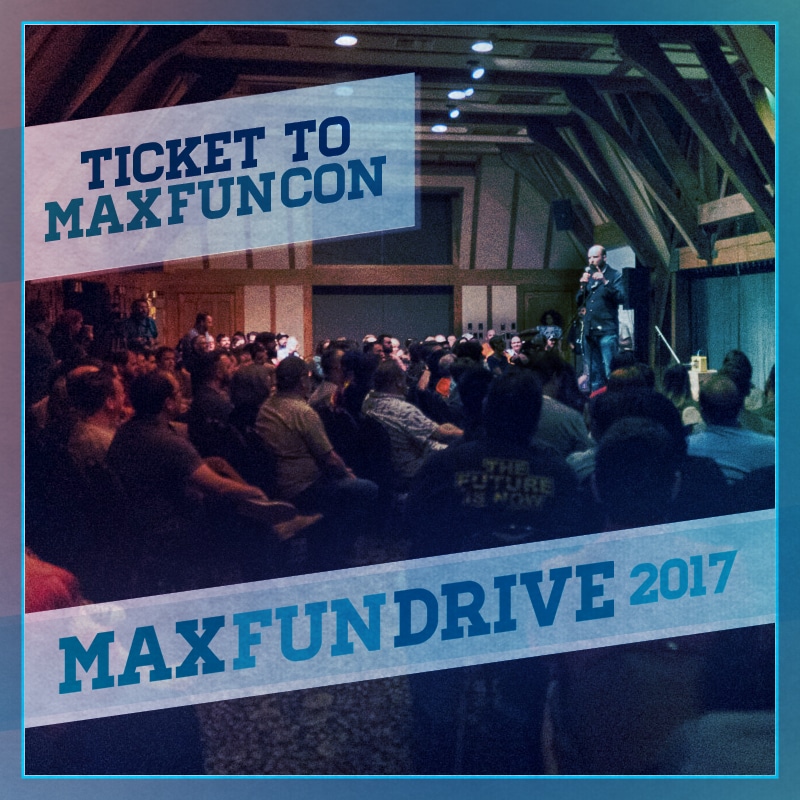 Get that MaxFunCon 2018 registration, plus everything below!
Let's say you join as a $100 monthly member, or upgrade your existing membership to $100 per month. You get a spot in MaxFun's exclusive culture club: the Inner Circle. Each month for the next 12 months, we reach out to a MaxFun host for a piece of culture (movie, book, or album) that they think our members will love. We send it to you in the mail (or over email for digital downloads) along with a note explaining why our host picked it. Never run out of cool culture again.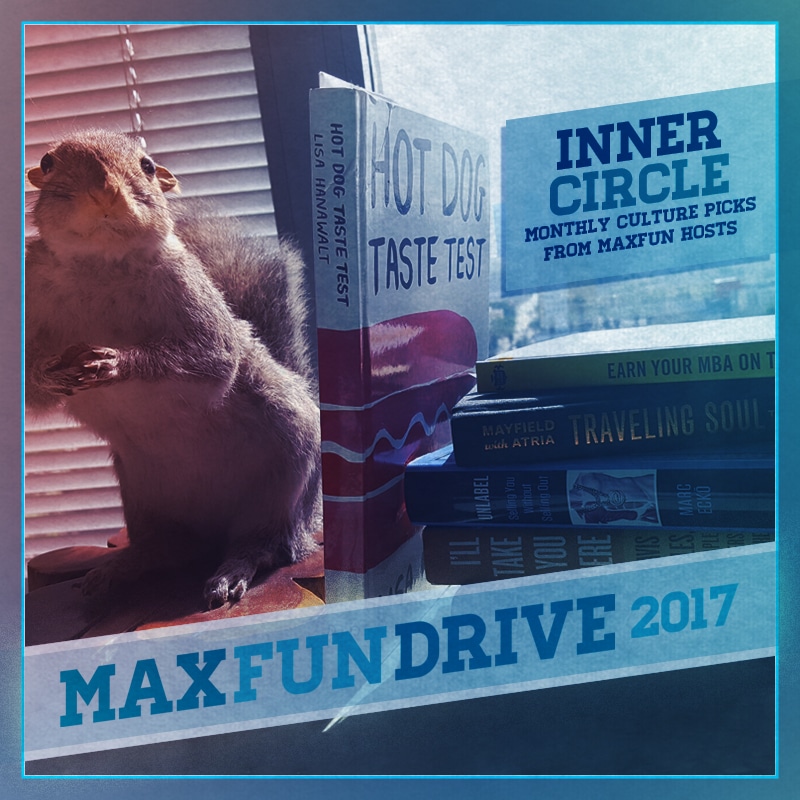 Join The Inner Circle, and get a hand-picked selection sent to you each month! Plus everything below!
We decided to keep with the glassware tradition for our new and upgrading $35 plus monthly members. This year we are so excited for this pair of quality glass beer mugs, engraved with the classic Maximum Fun rocket ship! Gone are your days of serving beer to your friends in cans and bottles! You will be able to class AND chill up your act with these great mugs. They'll even hold non-beer beverages! Cheers to MaxFun and friendship!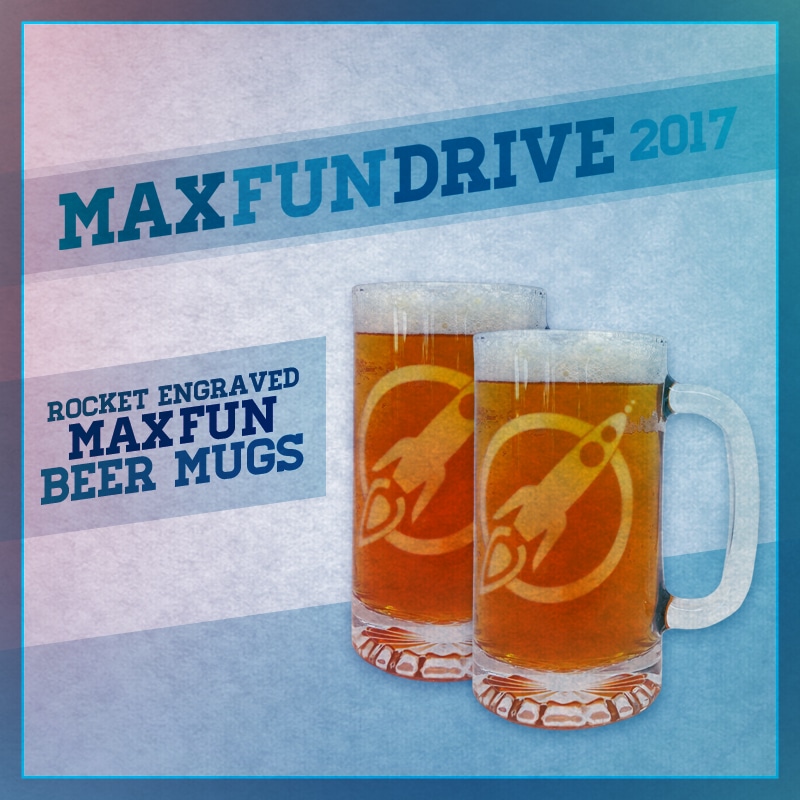 Get a pair of rocket-engraved mugs, plus everything below!
Remember how good it feels to get a handwritten card in the mail? We're here to help you spread that feeling! For our new and upgrading $20 plus monthly members, we've put together a really special Keep In Touch Kit. In the KIT Kit, you'll get a set of Max Fun note cards, designed by our own Brian "Sunny D" Fernandes; a self-inking stamp that is sure to lift your friends' spirits; a four-color rocket pen; and, to put you in a cozy and nostalgic mood while crafting your notes, MaxFun's official candlemaker, Erica Huff, created a rocket-shaped, pencil-shaving-scented candle. Let's bring back that good old fashioned correspondence!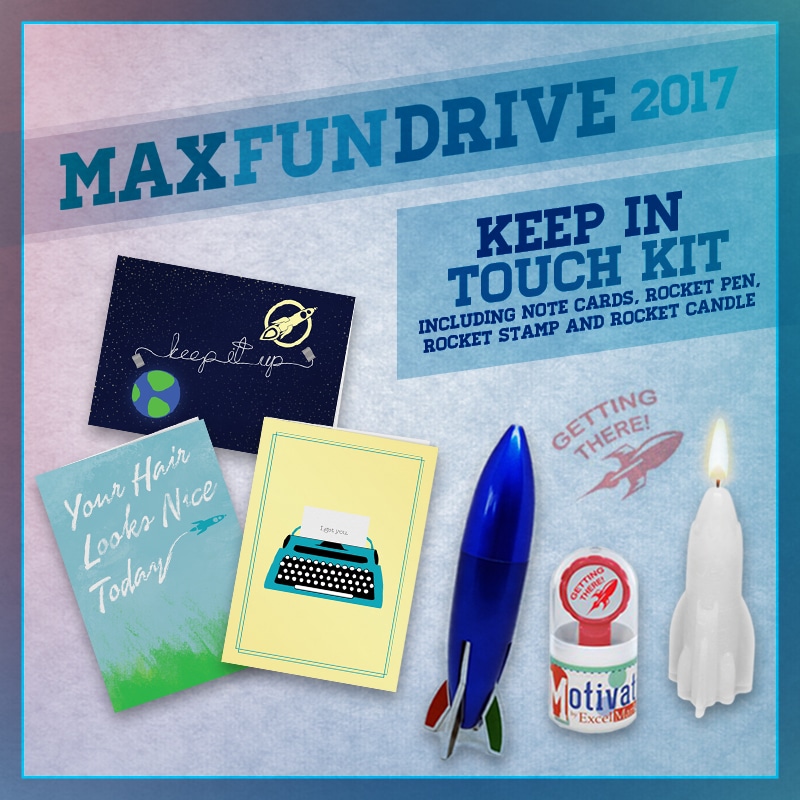 Get the Keep in Touch Kit, plus everything below!
We can't even describe how excited we are for what we have in store for folks who join at or upgrade to $10 per month. But we'll give it a shot. The inimitable Megan Lynn Kott has once again DELIVERED in designing this year's gift: drive-exclusive enamel pins, with a design for each show! Check out the designs, choose which pin you want, and flaunt your love for your favorite MaxFun show. Put it on your hoodie, backpack, tote bag, denim jacket, or whatever article of clothing you're wearing! Stick it in your cork board! Keep it in your pocket, and pull it out if someone questions your podcast bona fides. What a fool that person was to doubt you!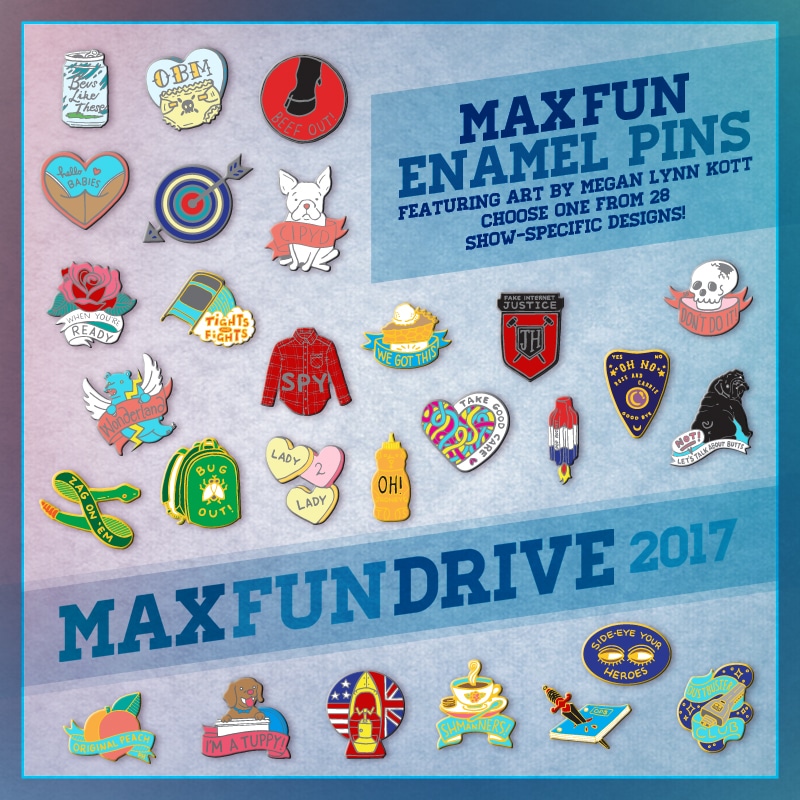 Get a MaxFun enamel pin, plus the bonus content!
Finally, everyone who gives at least $5 per month gets access to our treasure trove of bonus content. We're talking over 110 hours of extra episodes, outtakes, pilots, videos, Q&As, and all manner of sweet, sweet bonus goodness. Just for you, dear MaxFun member. It's our most popular gift for a reason, so join now, and start listening!
Are you tempted? Support your favorite MaxFun shows and get some amazing gifts in the process — go to maximumfun.org/donate to join or upgrade during the drive!
Questions about gifts or memberships? Email stacey@maximumfun.org.
Thank you to Brian Fernandes for these beautiful images!
And thank YOU for listening and supporting!