For years, you East Coasters have dreamed of it. Some of you have even journeyed cross-country in its absence. And now, it's finally here!
In case you missed the announcement earlier this week, we're bringing the party that is MaxFunCon to the eastern seaboard this October, for a little pre-Halloween magic from the 26th to 28th at the Inn at Pocono Manor.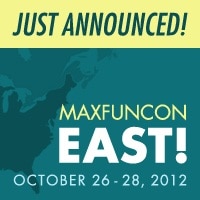 The line-up will be announced later this summer, but we guarantee that MaxFunCon East will bring all the goodness you've come to love about MaxFunCon West to the East Coast, from days classes and workshops, to evenings packed with comedy shows and parties.
Tickets go on sale THIS WEDNESDAY, May 2nd, so don't miss out on what's sure to be an unforgettable weekend, and keep watching this space for more details as they develop.
Ad astra!