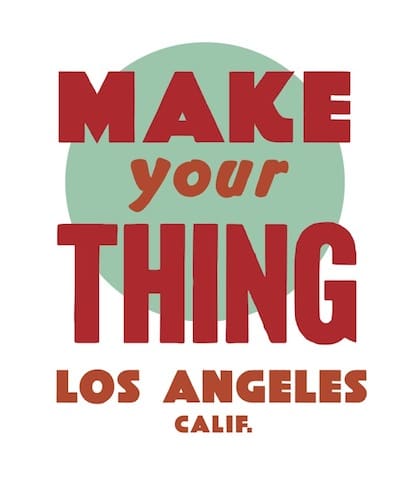 Head to makeyourthing.LA to see our video and support our Kickstarter!
Amazing news, people! We just launched our Kickstarter campaign to support Make Your Thing, found at makeyourthing.LA. Born from Jesse's Make Your Thing Manifesto, the most popular article in transom.org history, Make Your Thing aims to create a physical meeting place to foster independent creation. Make Your Thing is a conference about making a living creating what you love. We're hosting parties, live music, comedy, and a marketplace, in addition to an exceptional lineup of speakers that can only be heard at Make Your Thing.
Our speakers come from a variety of backgrounds and creative outlets. They include:
Jane Espenson, (TV Writer/Producer: Game Of Thrones, Battlestar Galactica, Torchwood, Buffy The Vampire Slayer, Gilmore Girls)
Vernon Reid (Musician: Living Colour, Black Rock Coalition)
John Vanderslice (Musician/Producer: Tiny Telephone, Spoon, The Mountain Goats)
Merlin Mann (Back To Work), @hotdogsladies)
Chris Gethard (Creator and host of The Chris Gethard Show)
Kate Beaton (Comics artist: Hark! A Vagrant)
Colt Cabana (Professional wrestler, The Art of Wrestling)
Ayesha Siddiqi (Writer: New Inquiry, Buzzfeed)
Brad Bell (Producer/Writer/Actor: Husbands, VH1's Pop-Up Video)
Jay Allison (Radio Producer: The Moth, This American Life, Transom.org, Public Radio Exchange)
Julie Sabatier (Radio Producer: Destination DIY, Oregon Public Radio's Think Out Loud)
Camas Davis (Founder of The Portland Meat Collective)
What's that? You want more? You want to…party?
We're so excited about the amazing folks speaking at Make Your Thing, but we really see this as an opportunity to interact with your peers. Towards that end, we're already planning gatherings and gathering places, formal and informal, to get people sharing their experiences. Many of these will have drinking.
This is Kickstarter funded project, so we need your support! You can read all about our campaign at MakeYourThing.LA, and we have an embeddable video here.