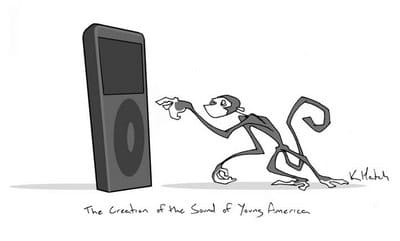 Six or eight months ago, I visited director Lee Unkrich at Pixar Studios in Emeryville, California. Lee is a Sound of Young America listener, and he was kind enough to invite me out for a tour while I was in the Bay Area visiting family.
The topics of conversation included how great Kristen Schaal is and the crazy offices at Pixar. You see, when they moved into their facility, they let the artists buy sheds at Home Depot and assemble them in the open-floor-plan office. You know the kind of backyard shed that looks like a tiny house? Pixar is full of those. The bigwigs' offices are even crazier, and Lee's is full of taxidermied animals.
I thought I would score some cool points by asking if he'd been to the Museum of Jurassic Technology in Los Angeles. Well, said Lee, My wife said I could only have one taxidermied animal in the house, so I chose a monkey. Then I had the founder of the MJT help me build a diorama for it.
Pictured, above.