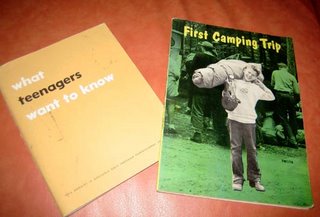 Our very last contest (of 25!) is for these two booklets on being a young person in yesterday's America. One is called "What Teenagers Want to Know" (it includes advice on how to avoid going steady too early). The other is called "First Camping Trip" (it includes advice on how to construct a lean-to). Both are full of amazing stuff.
ALSO! Today is your last day to enter to win our Listener Appreciation Month Grand Prize, a Pez MP3 player. I'm cutting off entries at 5PM pacific tonight, but until then, everyone who enters is eligible to win. I will draw from ALL the entries I have received over the past month.
Just email contest at maximumfun dot org, and include the date in the subject and your name & address in the body.
Ready… set… GO!
** Contest Closed **
Congrats to Miles from Fort Worth, TX!