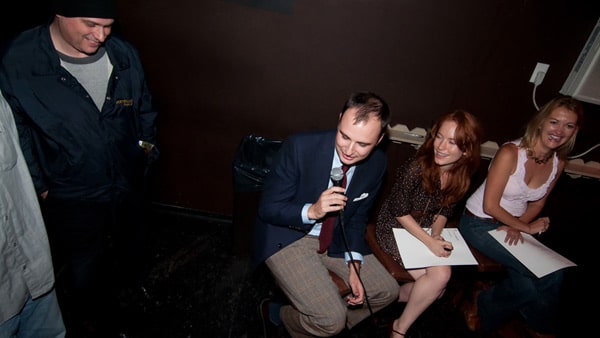 Carolyn Kellog of the LA Times was kind enough to come by the Literary Death Match show I was part of here in Los Angeles the other night. The experience of arbitrarily judging literary readings before a crowd of drunk 20- and 30-somethings was new, but it felt as familiar as an old pair of shoes. Or an old, well-worn metaphor.
In her write-up of the event, Carolyn wrote that I "proved he doesn't need radio's quiet room and a microphone to be funny." That was very nice of her, though I like to think of my work as much more than just my world-famous "Lazzi of the Quiet Room and Microphone." (Admittedly, that's what I'm known for in Commedia Dell'Arte circles.)
By the way – the champion turned out to be Seth Greenland, who was a guest on The Sound some years ago, talking about his novel The Bones, about the comedy industry. It turns out that Seth is now a writer/producer with Big Love. So that's neat, too.