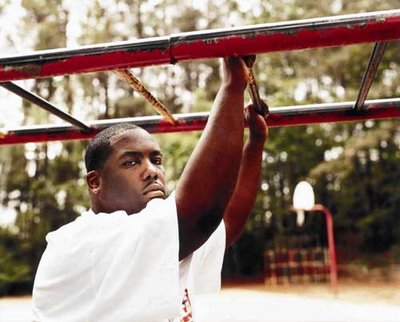 I think my interview with Killer Mike might be the best in Sound of Young America history. I certainly get more emails from folks about it than any other interview, and that's particularly impressive given the fact that I don't think there were a lot of Killer Mike fans in the TSOYA audience going in. Mike is a brilliant guy and a great MC, whether or not you agree with some of his ideas.
At the time of the interview, Mike was promoting I Pledge Allegiance to the Grind, a posse album that was intended to be a warmup for his second major label release Ghetto Extraordinary. Unforunately, Mike's been bouncing around labels ever since, and that album was never released.
Luckily for us, it has leaked, just in time for the runup to I Pledge Allegiance to the Grind V. 2. So… thanks to hiphopdx.com, enjoy the album. Below, the interview with Killa Kill.
Tracklist for the album:
Tracklist:
01 Get Em Shawty f. Three 6 Mafia (prod. by Three Six Mafia)
02 Gorilla Pimpin (Ghetto Extraordinary) f. 8Ball & MJG (prod. by Mello)
03 Bad Day / Worst Day (prod. by Beat Bullies)
04 Mama Said (prod. by Organized Noize)
05 Gonna Go to Ghana (prod. by Andre3000)
06 Niggaz Down South (prod. by Beat Bullies)
07 Shot Down (prod. by Organized Noize)
08 Chose Me f. SL Jones & Scar (prod. by Ron Browz)
09 My Chrome f. Big Boi (prod. by Mr. DJ of Dungeon Family)
10 Leave This Hood f. Jagged Edge
11 Aye-O (prod. by David Banner)
12 Speak Lord (prod. by Organized Noize)
Bonus Tracks:
13 Push Back f. M.O.P.
14 Bad Day / Worst Day Remix (Clean) f. Ice Cube (prod. by Beat Bullies)