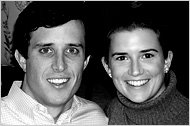 Kasper Hauser are working on a top-secret new book (fans of the podcast might be able to guess its subject), and they need your couple pictures.
Dear Friend,

SkyMaul authors Kasper Hauser will release their next book, a parody of the New York Times wedding announcements, in 2009 (St. Martin's Press).

Would you like to be in our next book?

Send us a picture, and if we use it, we'll give you a free signed copy of the book.

DETAILS:
We'll need a high-res digital close-up of you and your partner. (Or you and anyone else pretending to be a couple — straight, gay, young, old, whatever).

Most of the photos will need to look like the real ones (like these).

SHOULD IT BE A FUNNY PHOTO?
You don't need to be funny in the photo. It should look real (see below).

WHERE?
Send your photos to info@kasperhauser.com, or email if you'd like more details.

WHEN?
Immediately.

WHAT?
If we end up using your picture, we'll use fictional names and we will let you know before the book goes to press.

CAN I FORWARD THIS?
Please forward this message to fans of Kasper Hauser, SkyMaul, Fishing with Gandhi, Barack Obama, Hilary Clinton, Star Wars, the zoo, Nike, museums, medicine, BMW, falcons, fishing, Tibet, dog parks, philosophy, the Olympics, or anyone you think would like to be a part of comedy history.