We're hiring for TWO positions at MaxFun!  
As you know, Maximum Fun is a pretty small business, but thanks to your support, we've been able to grow quickly over the years. We're currently looking to hire two wonderful people for full-time positions as soon as possible. So if you're thinking of applying, or if you have a friend you think would be great for a role, please don't hesitate to submit or share! And please DO share these openings with all of the smart, kind, talented folks you know – it would be a huge help!
Full Charge Bookkeeper
We're looking to hire a full-time, in-house Full Charge Bookkeeper, who will assume the responsibilities of our part-time external bookkeeper and manage accounts payable and receivable. This role will report to our Managing Director, and is well-suited to organized, strong communicators with small business accounting experience. This is a new role at the company, consolidating and simplifying tasks that are currently divided amongst a small number of different roles. For all of the details, and to apply, please click here or the button below.
Transcription Manager
Back during the MaxFunDrive, we announced that we were going to start providing transcriptions for 18 of our shows. In order to make this happen, we're hiring a Transcription Manager, who will be responsible for ensuring the quality, consistency, and timeliness of transcripts. The Transcription Manager is a new position in our company, and the person in this position will lead our transcript initiative. It's important that they have a deep understanding of MaxFun's culture and values. The Transcription Manager will build and manage a small team of freelance transcribers, ensure quality and consistency across all transcriptions, and post completed transcriptions. For more details and to apply, please click here.
---
Want to join the Listener Panel?
Interested in helping us shape new and existing Maximum Fun shows? Join the Listener Panel! We're about to send our current Listener Panel a show to review, so now's a great time to sign up (plus, sometimes you'll get a sneak peek – well, sneak listen – at brand new shows!)To join the panel, follow these instructions to subscribe to a special podcast feed, where we'll be sharing episodes of some existing shows (and occasionally sneak peaks at some new ones). You'll also receive links to surveys to provide your feedback, which will help us understand what's working and what isn't, and improve MaxFun shows for our listeners. We just put up an episode and corresponding survey and we'd love to hear what you think!
---
New Staff Member: Jordan Kauwling!
Before we jump into the Staff Pick of the month, I'd like to introduce you to Jordan Kauwling, our new Production Fellow! Jordan switched coasts and moved to Los Angeles from Philadelphia so she could help us produce Bullseye with Jesse Thorn! Keep on reading to hear about her staff pick this month – it's from the podcast that first introduced her to Maximum Fun!
---
June Staff Pick of the Month
Jordan Kauwling, Production Fellow
The Flop House: Episode 282: Castle Freak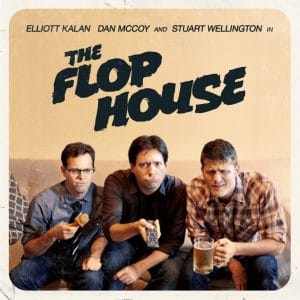 In a darkened theater in the early aughts I had my very first public crisis of character. I was out on a date with a guy I really liked who, in hindsight, was kind of an idiot. We were approximately two-thirds of the way through Dana Carvey's Master of Disguise. In the film, Carvey plays a turtle. Well, a man who has many turtle-like qualities. That's pretty much it. I think Jennifer Esposito was there for a couple of scenes. The movie was not great. It also wasn't good. I barely laughed. My date, on the other hand, was cackling. As I sat there that day, being whatever the polar opposite of being entertained was and judging my date for having really poor taste in movies, he turned to me and said, "Pretty great, huh?" I excused myself to run to the ladies room and left the theatre.
In retrospect, that movie was pretty great. For him. And that's more than okay. Not everything is for everybody. That's kind of how I feel about the movie The Flop House guys picked for Episode 282. If you've been listening to the show for a while you'll recognize the movie Castle Freak as the topic of many long-running inside jokes and co-host Stuart Wellington tangents. It's based very loosely on H.P. Lovecraft's The Outsider. It's about a family who inherit an Italian castle. Pretty sweet except there's a monster living inside. A "castle freak" if you will. Objectively, it's not a great film. But our guy Stu sure does love the thing! So does episode guest Joe Bob Briggs who is something of a connoisseur of B-flicks. The film has gore. It has plenty of spook-em-ups. The episode is just a lot of fun and I can't recommend it highly enough. Give it a listen here!