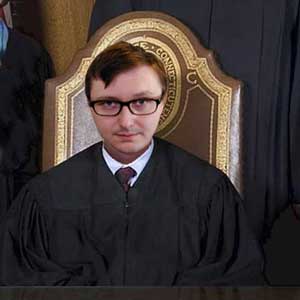 We're proud to announce the addition of a new podcast to our ranks: Judge John Hodgman.
As on the popular Jordan, Jesse, Go! segment, Judge John Hodgman will be settling disputes, big and small. Each week, two disputants will go before Judge Hodgman (and beloved bailiff Jesse Thorn) to have their disagreement settled in a binding and permanent fashion.
If you subscribe to John's "Today in the Past" podcast, you'll get Judge John Hodgman automatically. If not, you can follow this link into your iTunes. (The information in the iTunes directory should update within a day or two.) Our transitional episode is already up, and features a classic dispute from Jordan, Jesse, Go!. You can download that show directly using this link. If you use a non-iTunes podcatcher, you can subscribe to the URL http://feeds.feedburner.com/todayinthepast.
We'll have a formal launch in a week or so, and we'll get a special page up on the site soon. In the meantime, enjoy the show!
If you have a dispute you'd like to have settled by Judge Hodgman, email it to hodgman@maximumfun.org. We're looking for genuine disputes, big or small. No jokes.