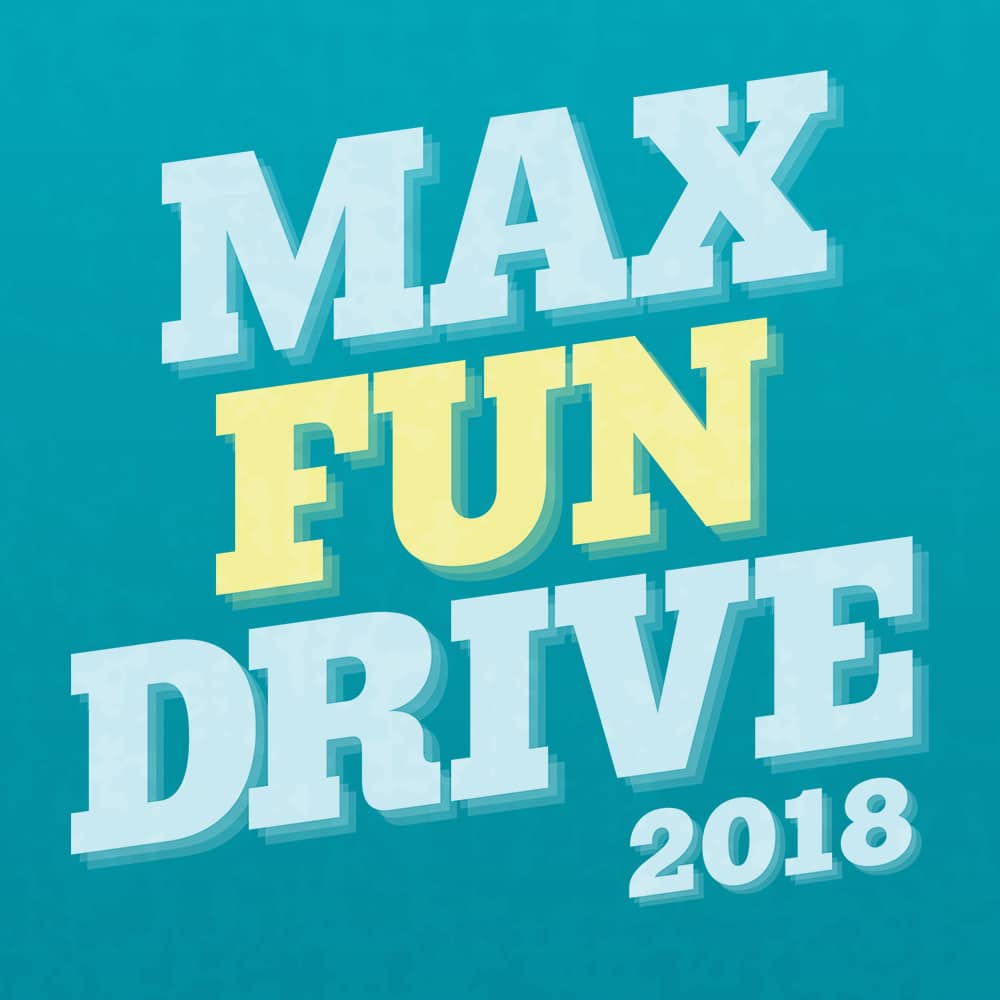 The best two weeks in podcasting start NOW. If you aren't familiar with the MaxFunDrive, it means spectacular episodes from your favorite shows, limited edition gifts, MaxFun meet-ups across the globe, and a 2-week celebration of all things Maximum Fun – including you and our fantastic community!
THE 2018 MAXFUNDRIVE STARTS TODAY, MONDAY, APRIL 2, and ends on Friday, April 13. It is THE best time of year to become a monthly member (or upgrade your existing membership), and we've put together some incredible, MaxFunDrive-exclusive thank-you gifts!
You knocked our socks off last year by blowing past our original goal of 10,000 new and upgrading members. We promised to go do a show at the Grand Canyon if we reached our stretch goal – and we finally made that show a (weird, wonderful) reality a few weeks ago! We even filmed it for you. You can see a preview of the video here and a full video will be out soon!
As for our goal this year: we hemmed and hawed and talked ourselves out of it and talked ourselves into it and we finally decided to set our 2018 goal at 25,000 new and upgrading members. TWENTY FIVE THOUSAND new and upgrading members. I legit just started sweating. That's more than double our goal last year. We believe we can do it, but we'll need your help.
Here's how you can help:
Tune in to all your favorite shows (and hey, try some new ones, too!) during the next two weeks. Even if you're behind on episodes, you should really listen to the new ones during the weeks of the drive. Your favorite hosts will tell your all the exciting stuff about MaxFunDrive, and you'll get to hear the choicest episodes of the year and chat about them with all your MaxFunster pals!
Go to (the new!) maximumfun.org/donate and become a new monthly member or upgrade your current monthly membership! If you're in a position to do this now, you should do this now. Like, right now. Come back here when you're all done and read the rest of the fun stuff at a leisurely pace–oh, you're back! Thanks so much for your support!
Spread the word! After you've started your membership, share your love for MaxFun on social media with the #MaxFunDrive hashtag, and tell you friends who listen to our shows why you became a member or upgraded your membership and why they should consider doing the same.
Gifts! Gifts! Gifts!
I AM SO EXCITED I FINALLY GET TO TELL YOU ABOUT THESE GIFTS. For real, we've been so jazzed about these for months and I cannot believe I get to talk about them now. Ok, so, to show you how grateful we are for your support, we've come up with some unbelievable thank-you gifts that you can only get right here, right now. If you become a member for the first time, or if you upgrade your existing membership to the next tier, here's the cool stuff you could get:
$5 a month: Special bonus episodes and videos (over 110 hours of content!) from all of your favorite shows!
$10 a month:We got the impression you really liked the enamel pins last year, so we commissioned Megan Lynn Kott to create NEW ENAMEL PIN DESIGNS for your favorite shows! And they are magnificent. Pick your favorite, and proudly wear your love for your favorite MaxFun show.
$20 a month:This one is super special, my friends. We asked the MaxFun hosts to share their favorite recipes with us, which we compiled with care into The MaxFun Family Cookbook! Have your pals over and cook up a feast beloved by your favorite hosts. And for dessert, make some tasty cookies with the set of three space-themed cookie cutters that come along with cookbook!
AND MORE! (Including the official re-introduction of the $50 level!!) Check out maximumfun.org/donate to see all of the gifts at all the levels!
Yes, we said more pins!
We are IN LOVE with Megan Lynn Kott's pin designs this year, and we're sure you will be, too. Like last year, we're planning to put pins on sale with the proceeds going to charity IF we hit our goal of 25,000 new and upgrading members (gulp). So, if that happens by the end of the drive, all folks at the $10 monthly membership level or higher will have the opportunity to buy pins for a period of time. Please keep in mind that the money made from the sale of these pins will be donated to charity, and that the single best way to support your favorite MaxFun shows is to join as a sustaining monthly member or upgrade your membership to the next tier. So be sure to encourage all your friends who listen to MaxFun shows to pledge a $5 monthly membership if they're able to!
New look for maximumfun.org/donate!
Since you've already clicked through, you've seen that some sections of our site look very different than last year. We've made some improvements to the design and flow of our membership pages, with more changes rolling out soon. We want to thank Pixel and Dot and Alex Liebowitz (and Bikram and Lindsay) for their incredibly hard work on putting together a better experience for all of you kind and generous folks.
Thank you for reading, and GET EXCITED FOR THE ALL THE PODCASTING FUN! You'll hear more from us in a bit!