Hi!
We've got a new show launching, a new chapter for The Adventure Zone, and a bunch of live shows coming up quickly!
Secret Histories of Nerd Mysteries joins Maximum Fun!
We're so excited to welcome Secret Histories of Nerd Mysteries onto the MaxFun network! Every week, hosts Austin Taylor and Brenda Snell conduct a deep-dive into topics from nerd history to answer the questions you never knew you had, like "Why Saturday morning for cartoons?" and "Why does Chuck E. Cheese care so much about birthdays?"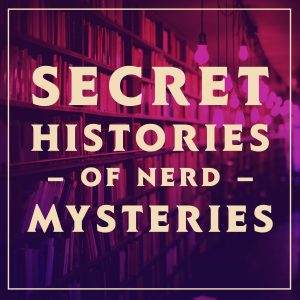 Austin and Brenda are celebrating their MaxFun launch today by releasing two brand-new episodes!
Austin answers the question: "Why did Bratz dolls disappear off of shelves?"
Brenda answers the question: "Was Barney the origin of modern internet hate?"
Secret Histories of Nerd Mysteries is a great show that fits right in with MaxFun, and we're all thrilled to have Austin and Brenda on board! Please help us give them a warm welcome, and subscribe now to check out both of today's episodes:
Subscribe to Secret Histories of Nerd Mysteries.
A new chapter for The Adventure Zone, plus live show recordings
The McElroys had a few exciting announcements in their most recent The The Adventure Zone Zone! The show is trying out some new things, including rotating GMs and game systems, inviting on exciting new guest stars, and experimenting with some shorter-length campaigns, so it will be easy to jump in at any time.
First up is The Adventure Zone: Outre Space with special guests Gabe Hicks and Kate Welch. Outre Space utilizes the new Marvel Multiverse RPG and will feature Clint as the GM.
The first episode of Outre Space will be released on November 30. Leading up to that, the McElroys will be releasing the audio from two Hootenanny live shows and the entirety of the Imbalance campaign that Aabria Iyengar ran as a video series.
Subscribe to The Adventure Zone.
Live shows coming up very soon!
We've got some great live shows coming up over the next few weeks, including two that are TONIGHT!

Thanks for reading! Now go subscribe to Secret Histories of  Nerd Mysteries, and discover the answers to things like "Did Blockbuster really try to make indoor playgrounds for adults?" (Yes, yes they absolutely did.)
— Your friends at MaxFun