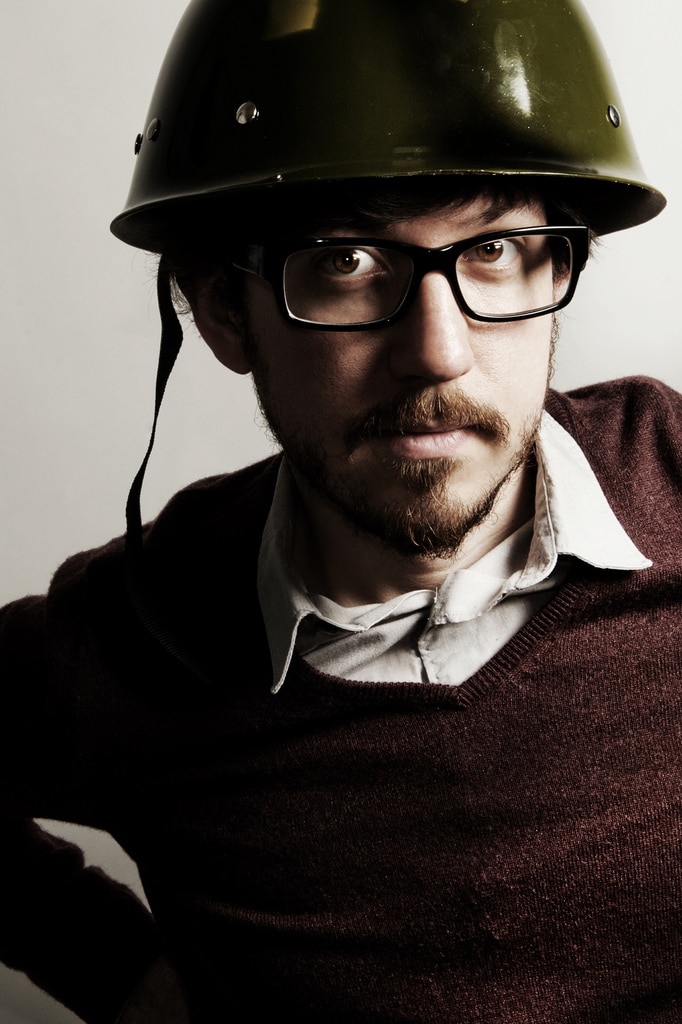 Interview conducted by Chris Bowman
Matthew Crosby is an all-around lovely guy. He's one-third of the award-winning sketch group Pappy's. Their Edinburgh Fringe shows have achieved critical success over the years in the UK. They've got two podcasts: Pappy's Bangers & Mash, which is based on conversation and riffing; and Pappy's Flat Share Slamdown, which is a panel show. The group is currently wrapping up production on a new BBC 3 show called Badults coming out sometime in July. Crosby also performs as a solo stand-up act.
International Waters: Pappy's is a well-established comedy act here in the UK, but you also work as a solo comedian. Which came first: the desire to perform as part of a group or as a stand-up?
Matthew Crosby: I think the desire to be a comedian came first and performing alongside other people seemed like a good step towards making that happen. Most of my biggest comedic influences when I was growing up weren't straight stand up or straight sketch: Vic & Bob, Peter Cook & Dudley Moore, Monty Python, Spike Milligan. So, when I started performing comedy, it was always as part of a gang show with other people. Partly because that was the sort of comedy I enjoyed the most; partly because I was too scared to do it on my own.
IW: Two things I'm glad you mentioned, fear and Vic & Bob. I guess that's three. Let's talk about fear for a minute. It's a great motivator as they say, but it also prevents people from taking the first step or the next step.
MC: And I certainly experienced that when I first started. Although, if you'd asked me at the time, I wouldn't have put it down to fear. I'd probably have said that the open mic circuit just wasn't ready for my type of comedy. Which wouldn't have been true: the open mic circuit is always ready for people who aren't that good at comedy but think they're spearheading a comedy revolution.
IW: I'm not naive enough to think that I am going to revolutionize anything, and certainly not comedy. I'm just generally afraid. Vic & Bob, Peter Cook & Dudley Moore, and Monty Python. What was it about that off-kilter comedy that drew you in?
MC: I think when I was younger I was quite into "stuff my friends don't know about". Now I'm a lot more evangelical when I find things I like. But old TV shows, stuff that was on late-night channel 4, obscure indie bands; that was exactly the sort of stuff that fueled my feeling of superiority over my peers.
IW: It's nice to get past the "it's mine" feeling to the "have you seen this?" phase of your life, isn't it? I want to go back to fear for a minute. Pappy's has become an Edinburgh Fringe favourite and well received around the UK in general. There has to be a certain confidence that comes with critical acclaim. How much attention do you pay to that sort of thing?
MC: Well, we did our own PR this year (which is becoming increasingly and depressingly rare in Edinburgh) so we had to read our reviews. But as for how much attention we pay to them? They're undoubtedly useful for selling a show; but they are no indicator of how good a show is. If an audience is laughing and clearly enjoying themselves, you don't have to wait for tomorrow's papers to see if the show was good or not.
 
IW: What was the last thing that frightened you professionally?
MC: I suppose the scary thing with success is that you feel compelled to better yourself next time around. That's scary. But what we've been lucky enough to be able to do is constantly change medium. In 2010, we felt like we'd done all we could with Pappy's live shows, so we took a break and started podcasting. That introduced us to a whole new audience, gave us a new enthusiasm for working together, and helped us clearly define our dynamic. It also gave us a chance to miss doing live stuff so when we came to write the 2012 show, we were really excited about getting back to it. Then we had our television show commissioned, which was a whole new challenge; but at least it didn't feel like, "well, we've done a good live show; we have to immediately do another one…"
IW: The new BBC TV show is tentatively called Secret Dude Society. What are some of the challenges you faced in making the show?
MC: The first challenge was coming up with a new name for it. The pilot script has been around for a few years but when we came to write the next five episodes, we decided that the title didn't quite fit. So now it's called Badults. 
I guess the biggest challenge comes from handing over responsibility to other people. In our live shows we write and perform everything ourselves; we make all our own props and costumes. In TV, you have to trust other people to help you realize your vision. Luckily, we had a superb team who all seemed to understand what we were aiming for. 
Actually, the thing we had on our side, that perhaps a conventional stand-up might not have, was that, because there's three of us, we are already used to collaboration and compromise. If you're used to the total autonomy of stand-up, I imagine the step towards authoring your own TV show could be much harder.
IW: On the subject of compromise, how do you decide on when to fight for (or insist on) an idea and when to give in? 
MC: If you completely believe in something, there's usually a rational way of explaining why you think it's a good idea. We're all pointing in the same direction- we want to make a brilliant show. Obviously, if it's for a live show, there's the "let's put it onstage and see who's right" test. If it's for the television show, we just have to go on instinct. If any of us really dislike an idea, then what we try and do is present an alternative. It's easier to deal with someone saying, "Instead of that, how about this?" rather than "I hate your idea but I have nothing of my own to bring to the table."
IW: Of course. That makes perfect sense. Basically just be a rational, decent person when dealing with people you respect. If you had to give a "best of" Pappy's sketches or bits to the uninitiated what would they be?
MC: And people you don't respect. Why not just be a rational, decent person? That's my revolutionary philosophy and the central tenet of my newly formed cult. Donations welcome via my PayPal page. 
As for "best of" sketches for Pappy's, there's something a bit "bleurgh" about hearing sketches described; but, here goes: we do a version of the Wizard of Oz where we… No I can't do it. It'll sound embarrassing. Come and see us live. Or watch Badults when it comes on TV (probably July on BBC 3 in the UK).
 
IW: Say something funny.
MC: I thought of this joke today so I've got no idea of whether or not it's funny but here goes: my family are so middle class that when I was sick they gave me tiramiSudafed. 
Matthew Crosby can be found on twitter at @matthewcrosby