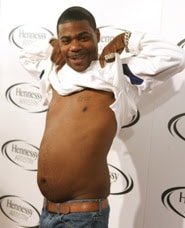 I know you hated on Tracy Morgan before he hooked up with the Tina Fey juggernaut. I know you didn't watch The Tracy Morgan Show like I did. I know you thought he was about the same as Finesse Mitchell. I KNOW HOW YOU ROLL.
Now, though, I have gotten my hands back on this tape of Tracy Morgan on some sportstalk radio show. Tape that I had and lost. Tape that will change your life.
Now you can claim that you were down with Tracy from the start, even after SNL but before 30 Rock. Because you've heard THE SPORTSTALK TAPE.
Papa Smurf was belligerent and drunk at the club. Papa Smurf was belligerent and drunk. GET YOUR GODDAMN HANDS OFF ME! LEAVE HIM ALONE! LEAVE HIM ALONE! Papa Smurf got a domestic violence charge against him. He gon' be arraigned tomorrow morning, he gon' get arraigned. He's goin "Where's my shoe?" He's going in the precinct with one shoe. He had white pants with black dress socks on, DEAD MAN STYLE. He drives a Cutlass. He had a Taurus, but he traded it in for a Cutlass.
Thank you so much, Pete, for bringing this back into my life.