Last night's big show at the Fake Gallery was a rip-roaring success. With prominent plugs on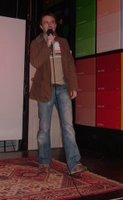 John Hodgman's blog and Defamer, we had nothing to worry about in the attendance department. A number of people had to be turned away at the door after we filled the Fake Gallery to fire capacity. As patrons sipped on imported beer and fine California wine, the show commenced.
Host Chris Hardwick (left) brought some class to the operation, telling his favorite German knock-knock joke (in ends in existential misery) and pointing out that while many people complain about the lack of jet-packs and blue drinks in 21st century America, they really should be marveling at the presence of vaginal rejuvenation surgery. Who needs meals in a pill when you have "an army of super-tight future pussy?"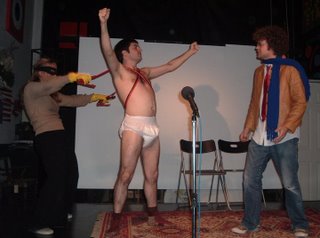 The duly warmed-up crowd was then treated to Sideways House. I was backstage, prepping for Prank the Dean's set, and missed their show, but it would have been impossible to miss the audience's laughter. These guys have built an impressive following with monthly shows at the IO West, and there were plenty of SH partisans at the Fake. Above, Jordan Morris of Prank the Dean guest-stars in a horrifying display of adult daiperosity.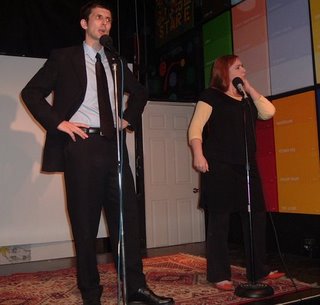 The next act, Diani & Devine (above), were San Franciscans before they were Angelenos, and it shows in the sophistication of their style and material. Imagine a 21st century Nichols & May with crackerjack chemistry and audacious concepts, and you'll have a picture of their act. Highlights included the admittedly vulgar closer, featuring Etta Devine as an elderly phone-sex operator.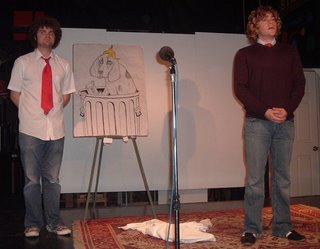 Prank the Dean closed the show. It's tough to review the show from the stage, but we were very happy with the wonderful crowd. Above, a candidate for office (Jim Real) offers a picture of a dog in a trash can as a metaphor for the grossness of his youthful indiscretions. Below, Jordan (as Michael the Orphan) finds that his fate has improved dramatically, as he learns he will become a robber baron after inventing the velocipede.