On the occasion of our three year anniversary, I wanted to recreate a special gift for the team: custom-engraved 45 adapters/weights that feature last year's Heat Rocks pin design done by Megan Kott.
These are great for keeping your 45 donuts firmly flat on your turntable. Myself, Morgan and Christian all have one and I had one extra made to give away to one of you. You can enter here and we'll pick a winner at random by Wed, October 7th.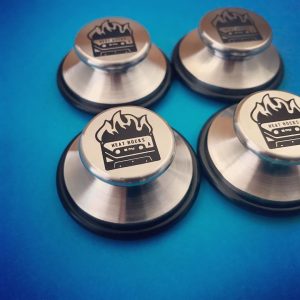 While we didn't plan on having these produced as merchandise, it is an option so let us know if that would be of interest to you.