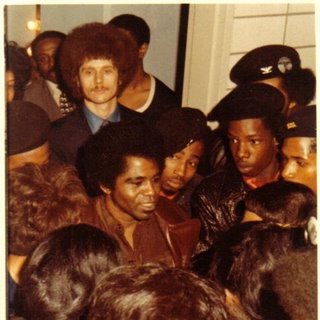 Alan Leeds was a longtime tour manager for artists like James Brown and Prince. His brother, Eric, was a key part of Prince's band on saxaphone, and still plays with Prince from time to time today. Anyway, Alan has a fascinating blog on MySpace, full of great stories about life on the road with James and so on (he's the white guy above), but I found a recent entry particularly fascinating. Here's an excerpt:
"Of course I'm humbled that young generations can be fascinated by us children of the 60's and 70's – we who took part in, or at least witnessed that which shaped much of what life is today. It's reassuring to see young folks study Malcolm, remember Kent State and listen to more Marvin and Marley than Usher and Fiddy. BUT here's the rub. One reason there's no Malcolm or Marvin today is that nobody will put down their Blackberry, Ipod, DVDs….or even vinyl collection(!)…long enough to take the risk to go OUT THERE and BE that!"
The full post is an interesting stew of ideas. He says the young people of the 60s and 70s weren't all they were cracked up to be… and he shows an obvious respect for hip hop… but at the same time, he feels like to some extent, it's all been done before.
Here's the link. Something to consider.