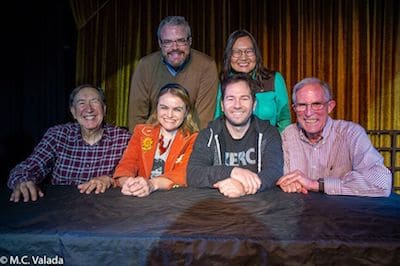 Earl Pomerantz, Carrie Poppy, J. Keith van Straaten, Helen Hong, Dr. David H. Bailey
Max Fun Members, this episode is exclusively for you! The hosts of the podcast "Oh No Ross & Carrie!" compete to determine trivia supremacy in a special network crossover edition of "Go Fact Yourself"!
Ross Blocher is known for being an expert in the paranormal… and disproving it. As a member of the Independent Investigations Group, he investigates the paranormal from a scientific perspective. What's he discovered? Not much of the stuff that goes bump in the night holds up.
His opponent is Carrie Poppy. Like Ross, she's also extremely well-educated in the paranormal. But her education actually extends to the degrees that she's earned. And she's all to happy inform everyone about it.
In this episode, we'll learn about mathematics, comedy legends, and the subtleties of men's fashion.
This show is available EXCLUSIVELY to our Maximum Fun Members. To get the chance to listen as well, be sure to take part in the annual #MaxFunDrive and become a monthly member! You can sign up at maximumfun.org/donate to help support this and other Max Fun shows you listen to.
What's the difference: Hanging on the rod
What's the difference between a blazer and a sportcoat?
What's the difference between drapes and curtains?
Areas of Expertise
Ross Blocher: The band The Smashing Pumpkins, The number Pi and the duck-billed platypus.
Carrie Poppy: "The Dick van Dyke Show", "The Mary Tyler Moore Show" and farm animals
Appearing in this episode:
J. Keith van Straaten
Helen Hong
Ross Blocher
Carrie Poppy
With guest experts:
Dr. David H. Bailey, author of the book Pi: The Next Generation.
Earl Pomerantz, TV writer whose credits include "The Cosby Show," "Cheers" and "The Mary Tyler Moore Show."
Go Fact Yourself was devised by Jim Newman and J. Keith van Straaten, and produced in collaboration with Maximum Fun. The show was recorded at The Angel City Brewery in Los Angeles.
Theme Song by Jonathan Green.
Maximum Fun's Senior Producer is Laura Swisher.
The show is edited by Julian Burrell.