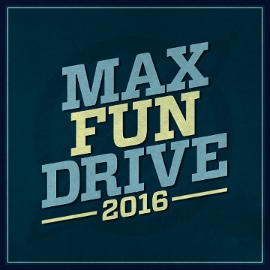 Thank you so much to everyone who joined, upgraded, and spread the word about the 2016 MaxFunDrive! We ended the night at 8,752 new and upgrading members, which blew all of our expectations out of the water.
Thanks to your generosity, we'll be sending a check to the Los Angeles Regional Food Bank for over 18,700 meals for hungry Angelenos.
And since we smashed our stretch goal of 7,500, we'll be getting to work on the pledge drive wallpaper and ringtones for members. Look out for those in the coming weeks!
If you weren't able to join or upgrade during the drive, you can do so this weekend, and still be eligible for the neat pledge gifts. But after that, those bandanas are gone forever, and you can kiss your chances of laying your hands on a MaxFun thermos goodbye!
From all of us at MaxFun, thank you so, so much for believing in and standing by what we do.