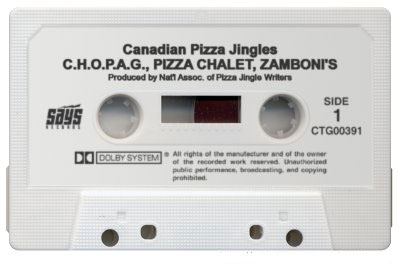 On this week's episode of Judge John Hodgman, The Pizza Pauper, our litigants discussed the very unusual restaurant chain The Canadian House of Pizza & Garbage.
Listener Eric Schumiller started thinking about some cassettes he'd seen on in a shoebox on his neighbors curb. He ran out, grabbed them, and ran to his cassette deck. He found just what he thought he'd remembered seeing – the circa 1980s jingle for CHoPaG.
He generously digitized it for us, and you can hear it above or download it here.
Lyrics below:
Canadian House of Pizza and Garbage,
A place of convenience and value for all.
Maison Canadienne de la Pizza et les Ordures,
Un lieu de commodité et de valeur pour tous le monde.
[spoken]: At Canadian House of Pizza and Garbage, turn garbage into gold! So don't refuse our refuse, or deny our detritus. Only $5 for a pop and a slice, or maybe much, MUCH more!
Canadian House of Pizza and Garbage,
Ontario's stripmall paradise.
Abandon your pride, and come inside,
You might find a motorcycle under your slice…under your slice!