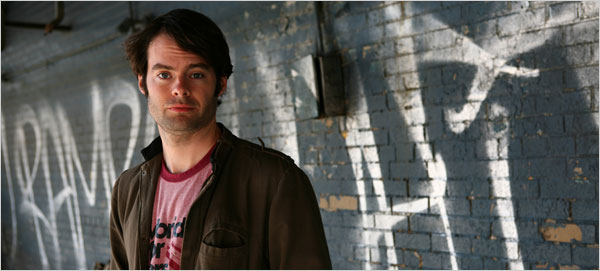 Our main man Bill Hader's rise to psuedo-celebrity has now been made official, as he's the subject of a nice profile in the New York Times.
WHEN an adult immerses himself in a comic book or a fantasy novel, it's usually a harmless act of juvenile regression. When Bill Hader does it, it's more like career preparation.
In 2005 Mr. Hader was rereading "The Sandman," the supernatural comic-book series by Neil Gaiman, when he learned he was being considered for a spot on "Saturday Night Live." He decided the two events couldn't simply be a coincidence.
"I got all superstitious about it," he said on a recent stroll through the science fiction section of the Chelsea Barnes & Noble. "Like, when I have Neil Gaiman books around me, I just do better."
Juvenile regression? Somebody hasn't read a lot of Neil Gaiman comic books.
The piece is largely focused on how Bill's pop-culture savvy has, in odd ways, led to his success. Like a lot of our favorite comics, Bill can comedy-nerd with the best of them, as I discovered when his interview for TSOYA ended with a 30-minute discussion of "Garth Marengi's Dark Place" and "BrassEye." So I can independently verify that Hader's a culture vulture.
Bill's since been a generous and committed booster of TSOYA, and that kind of thing goes a long way with me. So… kudos to film and television celebrity William Hader.
And here's what the article's brief mention of Bill's German doubletalk character reminded this giant comedy nerd of… Sid Caesar from Your Show of Shows.
Edited to add: MaxFunster Josh notes astutely that Bill is wearing a "Newbridge is for Lovers" t-shirt in the photo! Eagle eyes. The Best Show is another thing we talked about in that conversation :).