Hi! Welcome to MaximumFun.org, new person! I'm Jesse. I make this website, which I realize looks like it was designed in 1999. That's because it was actually designed in 1999. We put a lot more effort into our content than we do into our design. At least there's no annoying flash music playing in the background, right?
MaximumFun.org is all about stuff that's awesome. That means comedy, music, film, TV, books, theater, art, whatever. Our podcasts have been chosen as "best of iTunes" every year since iTunes starting picking best podcasts, we've been featured in Time, the Wall Street Journal, Salon.com, and most presitigiously of all, Southwest Airlines Spirit Magazine. In other words, we are legit and worth your time. There's a bunch you can do here.
I blog here, at maximumfun.org/blog. I try to share awesome things I come across on the web and beyond. Videos, music, links, occasionally text interviews. Once a week, we run a podcast review, and we have new episodes of our podcasts, I post them here. If you use a feed reader, subscribe to the RSS feed.
Speaking of which, we've got a bunch of podcasts, too. I like to think of it as a family of podcasts, really. If you want to jump straight to iTunes, you can find them all on one page there, just follow this link.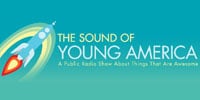 The Sound of Young America is our flagship show. It's a public radio interview show, hosted by me, with guests who I think are awesome. Subscribe to the podcast, and once or twice a week, you get a new interview with someone from the worlds I listed above — comedy, music, whatever… we even did a show about donuts once. You can use this link to get the show (free) in iTunes, or this one for the show's RSS feed.
Here are a few of our favorite recent TSOYAs to get you started:
Comedian Louis CK
Singer-Songwriter Nellie McKay
Writer Dan Kennedy
"This American Life" host Ira Glass
You can find all of our old episodes here, in our archive. If you want, there's a feed of older episodes of the show, to help you catch up, called The Sound of Young America Classics. The feed is here, and this is the iTunes link. If you feel like really going whole-hog, you can download whole years of TSOYA shows via bit torrent.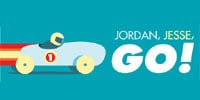 Jordan Jesse Go is our fun talk show. It's sort of like morning radio, if morning radio wasn't dumb. OK, maybe JJGo is a little bit dumb, but in a fun way, I promise. It features me and co-host Jordan Morris (who you may have seen on Fuel TV, especially if you are a 14-year-old boy who loves Xtreme Action Sports) talking about goofy stuff. We also feature guests from the world of alternative comedy joining in on the fun. It's an interactive show, too. Call in on one of our "action items" sometime — the number's 206-984-4FUN. You can get the show via iTunes or RSS.
Here's a few favorite JJGos:
"Octopus Suprise" with special guests The Sklar Brothers, in which we eat bizarre Japanese snack sticks, discuss Paul Stanley's battle with the laser pointer, and do other cool stuff.
"Old-Tyme AIDS," which was recorded live before an audience of about 500 at UMass Amherst, in which we demonstrate our oldness by interviewing a teenager about what the kids are into.
"Hot Tubbin", the episode that cemented rapper Ashkon's role as a regular guest on the show. Featuring his earth-shattering performance of his hit song "Hot Tubbin," among other things.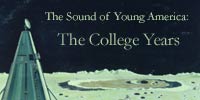 If you enjoy JJGo, you might want to check out The College Years, our podcast of Sound of Young America episodes form our college days. Back then, TSOYA was a lot more like JJGo. Also, we were less competent. You can get that in iTunes or via RSS.
We also do comedy podcasts.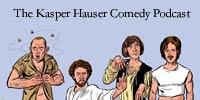 Kasper Hauser are the brilliant sketch comedy group behind SkyMaul and Wonderglen. Their podcast, The Kasper Hauser Comedy Podcast, features audio, video and even PDF comedy in very bite-sized pieces. You can check it out via iTunes or RSS. Check out "Phone Call to the 14th Century," or one of the group's amazing This American Life parodies.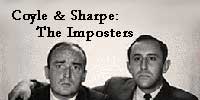 Coyle & Sharpe: The Impostors is our podcast of 1960s street put-ons conducted by Mal Sharpe and James P. Coyle. In the early 60s, these two guys walked around San Francisco with a microphone, roping people into some of the most bizarre, surreal and hilarious schemes and ideas you can imagine. Check out "Maniacs in a Living Hell," in which they convince a man to work in a pit of fire, pursued by maniacs and eating nothing but bats he must catch and roast himself. Again, you can check it out via RSS or iTunes.
Also: let's chat! The MaximumFun.org forums are a great place to talk about culture, the arts, and (of course) our shows and blog.
My email is jesse@maximumfun.org, and I always appreciate hearing from you. Let me know what you think of the site. And finally: if you like what we do, donate to support it. That's how I eat.