Our 4-week, 2020-edition of MaxFunDrive is officially over! Thank you so, so much for your support, your attention, your time, and for helping us spread the word about our shows and the MaxFunDrive! We couldn't have done it without you!
---
MaxFunDrive new, upgrading, and boosting total was 32,177!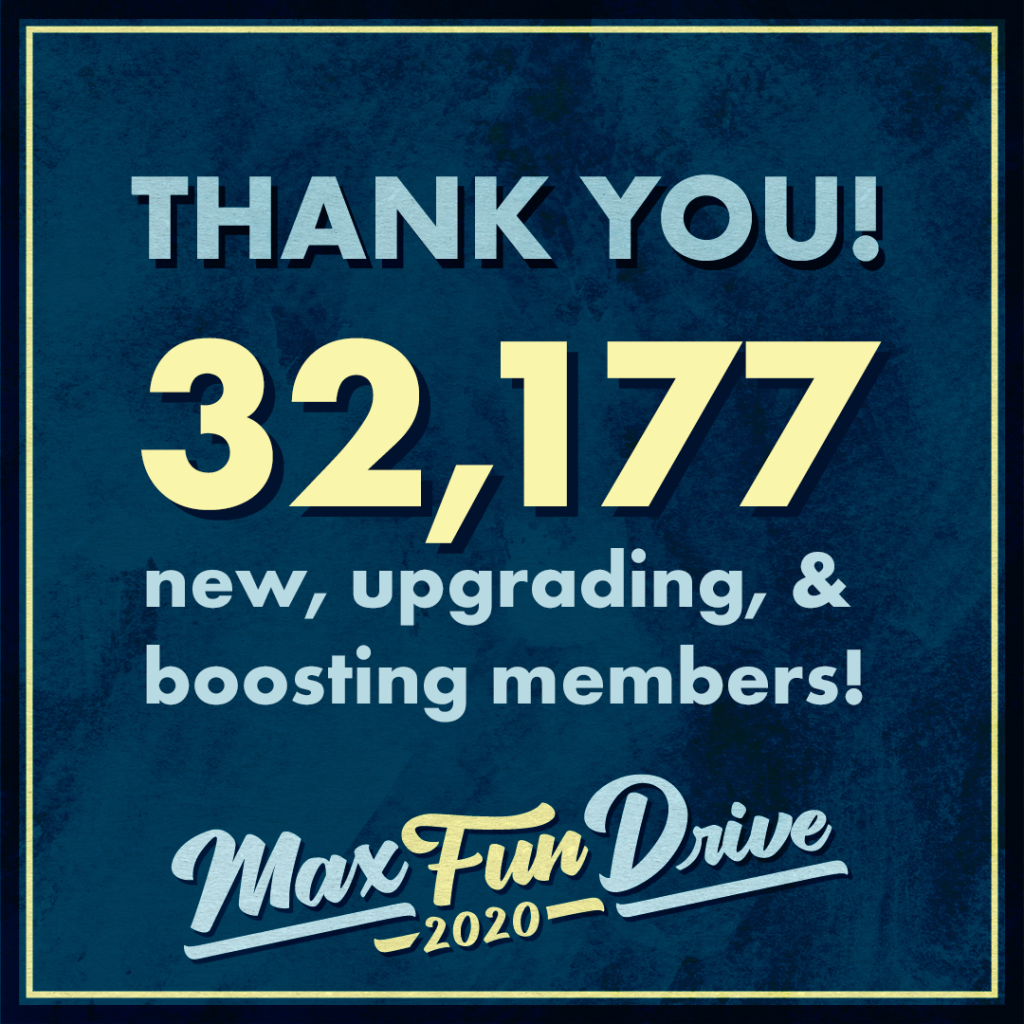 The MaxFunDrive has officially ended with 32,177 new, upgrading, and boosting members! This is a record number for us. In the year 2020. With all of THIS happening. That's absolutely astounding and humbling and we cannot thank you enough. We know this year has been a really difficult one for a whole lot of people, and we're grateful that you all let us take up this space in your shows for a month to allow us to best support our hosts and staff. We had a lot of meetings about how we could possibly have a MaxFunDrive this year in a way that took care of our hosts, our staff and our audience.
It was very hard to decide what to do, but ultimately we went with what felt right to us (even if some of it went against all fundraising rules). And it really only worked because of you. Our audience is full of the most caring, generous, and understanding folks we've met (or haven't met!), and we all really feel lucky to be in this community with you. Thank you for being a bright spot this year, and thank you for supporting our shows and spreading the word about the things you love!
---
The MaxFun community raised over $10,000 with weekly livestreams for charity!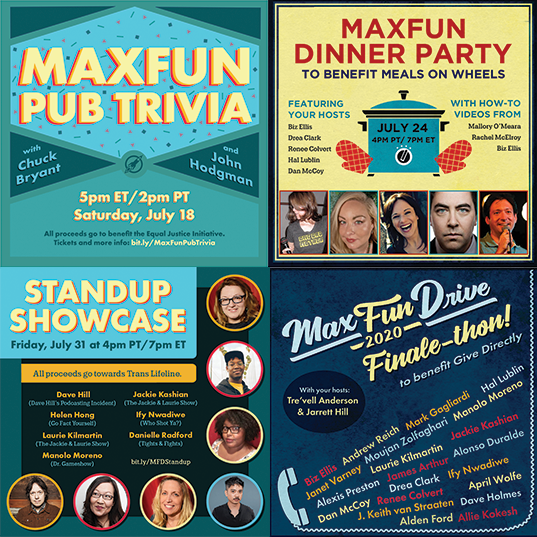 Part of the reason we extended the MaxFunDrive this year was to open up some more opportunities to do livestreams. The reasoning for this was two-fold: to provide some extra fun and entertainment for all of you lovely folks, and to help our community at large by raising some money for charity. Thanks to all of our delightful hosts for being so generous with their time and talents, and thanks to you, our audience, for being so generous with your donations that the MaxFun community raised over $10,000 for charity! Here's a breakdown of what money went where, and where you can find replays if you missed these events:
And speaking of Give Directly…
---
Pin sale closes this Friday, August 14!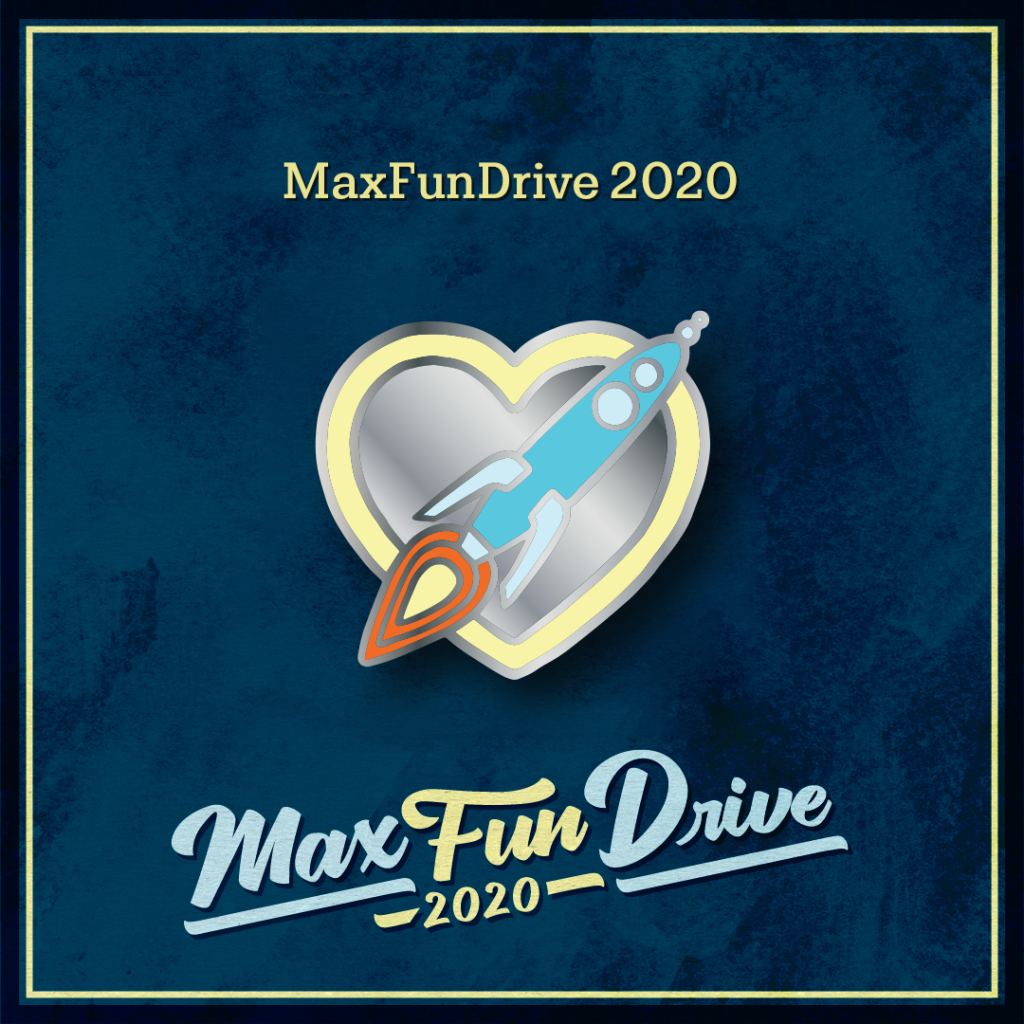 All of the proceeds from our pin sale this year will go toward Give Directly, to help get direct cash relief to families affected by COVID-19 across America. This year, for the first time ever, we have a pin that ALL members have the chance to get.
If you are the $10 level or above, you should have received an email with instructions on how to get to the store that sells all 41 pins. If you are at any other level, you should have gotten an email with instructions on how to purchase our exclusive MaxFunDrive 2020 pin.
If you'd like to buy a pin but haven't gotten an email yet (and you haven't just signed up in the last 24 hours), please search your inbox for membership@maximumfun.org, and if you still don't find it, email us at that address.
Our pin sale will close forever on Friday, August 14 at 11:59pm PT, so if you've been on the fence and decide you want some pins, you'll have until noon PT on August 14 to join or upgrade to gain access to the sale. Thank you again to Megan Lynn Kott for her incredible designs!
---
Gift memberships will be distributed all year!
Gift memberships (and boosts) will stick around all-year! So if you have anyone who would enjoy the gift of MaxFun, you'll be able to get one whenever you'd like. We'll also continue to accept gift memberships for anonymous MaxFunsters who had to cancel or cannot start a membership due to everything going on in the world. We are still working through matching up some givers and recipients, and we'll continue to do that year-round as more come in. If you know someone who would like to be put on our list to possibly receive a gift membership, please have them email membership@maximumfun.org. And if you'd like to purchase a gift membership, you can do so any time at maximumfun.org/join#gift.
Thank you again for everything! We love you, and take care!