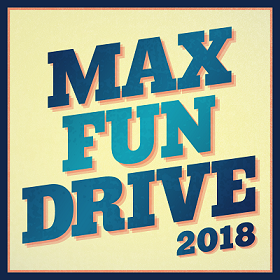 The 2018 MaxFunDrive is April 2 – April 13!
The best two weeks of the year are almost here! The MaxFunDrive is the perfect time to support your favorite shows by starting a monthly membership or upgrading your existing one. It's also THE MOST podcasting fun you can have. Shows will release their biggest episodes yet. You'll hear from plenty of fantastic guests on extra intriguing topics. Our thank-you gifts for new and upgrading members this year are potentially our most exciting gifts yet (we've been SO PUMPED about them for months). And we'll have MaxFun meetups around the world.
But most of all, the MaxFunDrive is a huge celebration of all things Maximum Fun, including the spectacular community that's formed around these wonderful shows. Make sure you tune into all of your favorite shows during April 2 to April 13 for more details about the MaxFunDrive and for the best episodes of the year! And if you want to follow everything happening on social media, follow MaxFunHQ on Twitter and Instagram and share using the #MaxFunDrive hashtag.
MaxFun Meetup Day is Tuesday, April 10, 2018!
One MaxFunDrive tradition we really, really love is MaxFun Meetup Day. These listener-hosted gatherings happen all around the world on the same night, and it's a splendid way to meet MaxFunsters in person. This year's meetup day is Tuesday, April 10 at 7:00pm.
If you'd like to host a meetup, simply pick a place (we recommend a bar or cafe that can accommodate a group), and email stacey@maximumfun.org with your city, state, venue, and name, and we'll get it listed on our meetup page. Once the meetup locations start rolling in, you can see the list at maximumfun.org/meetups2018. If your area isn't represented yet, don't fret, just make one! It doesn't have to be anything fancy – just a place where people can get together and say hello. The people will bring the fun.
As always, thank you for your incredible support of Maximum Fun, and we'll see you in a few weeks for THE 2018 MAXFUNDRIVE! Airhorn noise, airhorn noise, airhorn noise / high fives all around!