The #JJGoBigHat Scholarship for Lifelong Learning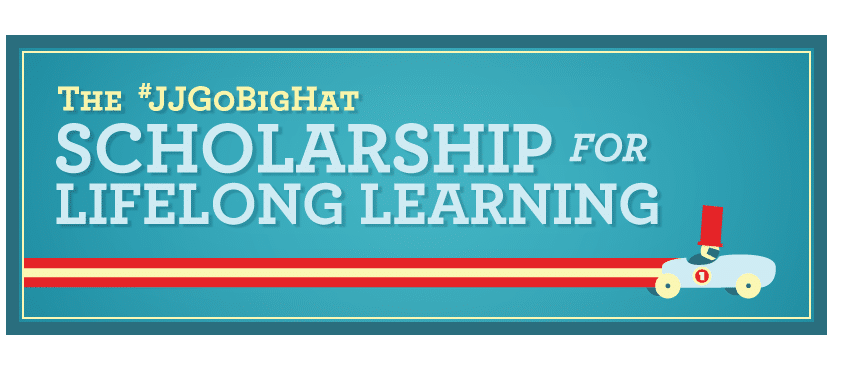 The #JJGoBigHat $1000
Scholarshipfor Lifelong Learning


Announcing the Jordan, Jesse, Go! Scholarship for Lifelong Learning with a very real $1000 award for the person wearing the biggest hat (by volume) to use in pursuit of specific lifelong learning goals.
The winner will be announced at the start of the MaxFunDrive on March 20th, 2017.

TO ENTER: Post a picture of your big hat on Twitter with the hashtag "JJGoBigHat" or email JJGoBigHat@gmail.com. All entrants must state their lifelong learning goals and be able to walk at least one city block in their hat.
All entries will be narrowed down to a group of finalists who will then be evaluated by a Blue Ribbon Commission of judges made up of distinguished people whose email Jesse had on hand.
Please Note: Decisions will be made in part on hat volume, and in part on each member of the panel's arbitrary affinity for each hat entered and the stated lifelong learning goals. Jesse's mom will break any and all ties.
The Blue Ribbon Commission:
• Cody Wellema, Hat-Maker from Wellema Hat Co. in Altadena, CA
• Elizabeth Gilbert, Best Selling Author of Big Magic
• Andy Daly, Funnyman, Creator of Mustache TV
• Gillian Jacobs, Glamorous actress, Netflix's Love
• Boots Riley, Marxist Rapper, The Coup
• Gail, Jordan's Mom
• Judith, Jesse's Mom