More information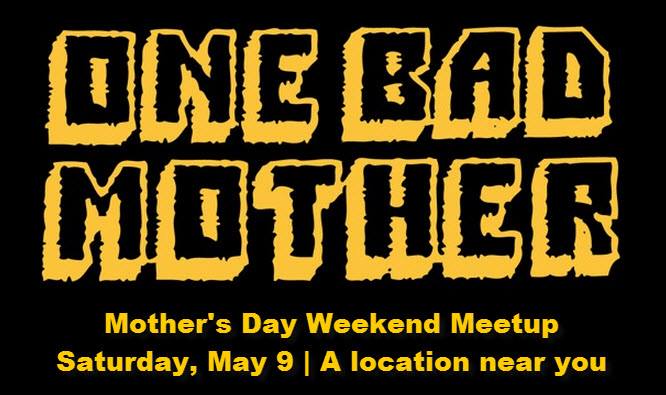 In honor of Mother's Day (and just because we want to hang out with each other), we're making Saturday, May 9th an international meet-up day for One Bad Mother listeners! We have meet-ups scheduled in a bunch of cities, and more meet-ups are being organized as we speak! Check back here for updates, we'll be adding cities as we get the details. If you're not seeing your city below and you're interested in organizing or attending a meet-up, connect with other listeners in your area using our facebook group!
Brooklyn, NY
JJ Byrne Park on 5th Avenue btwn 3rd & 4th Streets
3-5pm
Join the facebook invite!
Portland, OR
11 AM
Westmoreland Nature Playground at Westmoreland Park
Join the facebook invite!
Austin, TX
2pm at Mueller Park in Central Austin
Join the facebook invite!
Houston, TX
9am
Discovery Green (1500 McKinney St)
Notes: You can bring your kids to play on the playground, or the splash pad, or just run around. Then we can catch some brunch/lunch at Phoenicia.
Minneapolis/St. Paul
2pm
Sea Salt Eatery (4801 Minnehaha Ave South, Minneapolis, Minnesota)
Baby-friendly, other kids optional. It's outdoors in Minnehaha Falls Park, so we're hoping for nice weather! Anyone can join the Twin Cities OBM Meetup group for more info on facebook.
Boston
3-5pm
UPDATE: Due to major construction where we were originally planning our meet-up, we have had to change the location. We are now meeting at the playground in front of the Cambridge Public Library.
Lida will have a yellow balloon tied to her stroller and will be wearing her OBM t-shirt.
San Francisco
10:30am
Blue Boat playground (45th and Lincoln, in Golden Gate Park)
London
11am
https://www.facebook.com/events/1421853531455249/
Kansas City
POSTPONED! But please join the KC group on FB for coordination of a future meet-up date!
Group page is here: https://www.facebook.com/groups/1407151972936827/
Atlanta
10:30am
http://www.meetup.com/One-Bad-Mother-Atlanta/
Seattle
3:30pm
Green Lake Park – Playground. Tables near the swing sets as a meeting point.
Courtney will be wearing her superman t-shirt (and maybe carrying a baby in a gray Ergo). Kids and partners welcome.
More info in the fb group: https://www.facebook.com/groups/975663755801666/