More information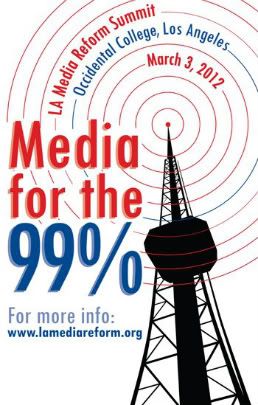 It should be no surprise to anyone who frequents this site that the way we ingest media changes more and more each day. You are of course reading a blog on a site known for podcasting — a blog entry that you may have been referred to through Twitter or Facebook. We're living in an age where social media keeps us connected to events as they happen, where newspapers are littered with yesterday's news. We're faced with more sources than ever, and have access to more information than one could ever sift through (or require, as John Hodgman might say).
With that in mind, how can the sources we trust keep up? What changes must be made to keep mainstream media relevant? More than that, how do you stay in tune with what's right and good? These are the questions being asked at the Fifth Annual Media Reform Summit, and our own Jesse Thorn is one of the voices trying to answer them.
The panel discussion will be held in 200 Johnson Hall at Occidental College on Saturday, March 3rd, at 10:15am as part of the L.A. Media Reform Group's Media For The 99% summit. Joining Jesse on the panel are:
– Val Zavala, Vice President of News and Public Affairs and Anchor/Reporter for SoCal Connected at KCET-TV.
– Maria Armoudian, author of Kill the Messenger: The Media's Role in the Fate of the World, and host/producer of the radio programs The Scholars' Circle and The Insighters.
– Sharon McNary, Public Insight Analyst for KPCC, who's worked in TV news and documentaries, radio, wire service and newspapers across the Southern California market.
If you'd like to attend the event, you can RSVP by clicking here.
To learn more about the day's events, click here.