Episode notes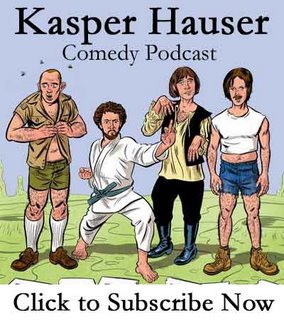 This week, inspirational speaker and business guru Blaine Cardoza teaches us how to be "Vice President of Your Own Life."
Thanks for subscribing and taking the Kasper Hauser Comedy Podcast into the top 25 at iTunes Comedy! Please continue to subscribe and review the show! You can also check out KH's videos on YouTube.
And hey, guess what? "SkyMaul" is in stores today! We're trying to get the book to shoot up the sales charts at Amazon, so if you're thinking of ordering, do it today! This book gets my personal guarantee — the only two books I've read in the last five years which are this funny are "America: The Book," and "The Areas of My Expertise." I think this book is genuinely brilliant. So buy it. If you buy it, and don't like it, you can send it to me and I'll send you your money back. Out of my pocket.
Download Episode Three
Subscribe in iTunes
Review in iTunes
Buy Skymaul – AVAILABLE NOW!
Hear Episode Three
About the show
Kasper Hauser are one of the most acclaimed sketch comedy groups in the nation. They've won the prestigious Herald Angel at the Edinburgh Fringe Festival, appeared on Comedy Central and This American Life, and are the authors of three books. Their podcast features audio, video, and visual comedy.
How to listen
Stream or download episodes directly from our website, or listen via your favorite podcatcher!