Episode notes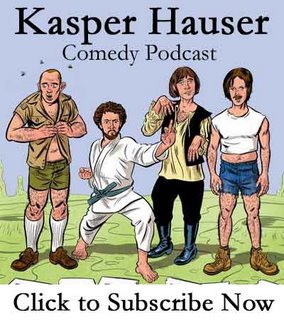 It's here, folks. I predict rip-roaring success for the newest production of maximumfun.org: The Kasper Hauser Comedy Podcast. Subscribe now!
Here's what you get:
A five-minute-or-so weekly audio sketch or comedy bit.
A weekly sample page from Kasper Hauser's new book, "SkyMaul: Happy Crap You Can Buy From a Plane." (as endorsed by George Saunders, Patton Oswalt, Fred Willard, John Hodgman, Dave Barry, David Foster Wallace and more!)
Plus videos every couple weeks…
iTunes tells us they're going to feature the show in their "New Releases" section starting Wednesday… let's get a head start! Subscribe, then review the show!3
For those who don't use iTunes, here's the feed: http://feeds.feedburner.com/kasperhauser
This week's show features a favorite, originally heard on The Sound of Young America: Phone Call to the 14th Century. We'll have never-before-heard stuff in the coming weeks.
OK: ready… steady…
GO!
Hear Episode One
Embeddable Player Code (Copy and Paste)
About the show
Kasper Hauser are one of the most acclaimed sketch comedy groups in the nation. They've won the prestigious Herald Angel at the Edinburgh Fringe Festival, appeared on Comedy Central and This American Life, and are the authors of three books. Their podcast features audio, video, and visual comedy.
How to listen
Stream or download episodes directly from our website, or listen via your favorite podcatcher!