Episode notes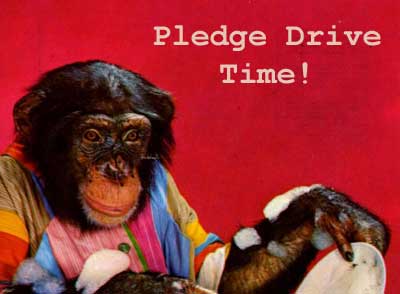 It's officially been one year since The Sound of Young America and MaximumFun.org starting accepting donations. In that time, dozens of listeners have stepped up to the plate to support our programming (and blogging). Your support has allowed me to expand our offerings, buy some new equipment and quit my day job (though I still spend too much time on contract work).
In celebration of a year of donation-supported content, we're having a good old-fashioned pledge drive. The goal is to build a base of supporters that can carry the show into the future.
I give everything away for free. The blog, all the shows and all their archives, the radio show… everything. There's no mandatory subscription fees or pay-per-downloads here. My first priority is sharing this work with you.
In order for me to do that, I need your support.
I ask that you donate to support the show. You can give $20 a month if you have the means, or you can give $2 or $5 if you're as broke as I am. I ask for monthly gifts because I'm not a professional fundraiser, and I'd rather dedicate my time (and yours) to programming and not to asking for money. This way, instead of fundraising two or three times a year, I can do it once. That said, if you'd like to make a one-time donation, or simply mail a check, you can do that as well.
I appreciate your support — and because of that, I'm giving shit away to say "thanks."
Everyone who donates will receive a Maximum Fun Pack. That means a Maximum Fun Club card, personally inscribed (not to mention laminated) by yours truly, some stickers, and a pin for your lapel.
If you donate at the $10 or $20/month level, I'll send you a Sound of Young America t-shirt. If you've already got one, get one for your spouse! It'll be great, they'll love it, I promise.
And furthermore…
Everyone who donates will be entered into a prize drawing. It's different from most drawings in that you have a great chance of winning.
You could win:
Kasper Hauser's SkyMaul: Happy Crap You Can Buy From A Plane
John Hodgman's Areas of My Expertise, personally autographed by the author
One of FIVE personalized Hobos drawn according to a name you choose by the great Ape Lad (also known as Adam Koford)
Or the grand prize:
A complete box set of the legendary spy spoof series Get Smart (created by Mel Brooks and Buck Henry) — a set which costs $300 in the store!
Click here for our donation page, where you can choose the level of your support. If you'd like a t-shirt, be sure to include your shirt size and address. And once you do donate, be sure to record an intro for The Sound of Young America!