Episode notes
**Warning – this episode contains lots of tears**
For the final episode of Pop Rocket, the panel convene to give listeners one last All About, one last Jam, and they look back at the past four and a half years, and all the various milestones they've shared with one another and their listeners while doing the show–marriages, deaths, birth, book deals, finding a new home, and so many other memories. It's raw. It's wonderful. In addition, we'll hear phone calls from listeners and friends of the show about what Pop Rocket meant to them. Plus, Guy shares the best abortion joke he's ever heard.
Lastly, Wynter and Karen reveal their new, upcoming podcast, and how you can stay in touch with them beyond Pop Rocket.
ALL ABOUTS
Margaret: Broad City series finale
Karen: Gentleman Jack
Wynter Veep
Guy: Long Shot
That's My Jam
Margaret: George Harrison-If Not for You
Karen: The Postal Service – Such Great Heights
Guy: Christine Anu, David Hobson – Now Until the Break of Day
Wynter: Sid Vicious – My Way
Announcement
Karen Tongson and Wynter Mitchell-Rohrbaugh have a new podcast in the works called Waiting to X-hale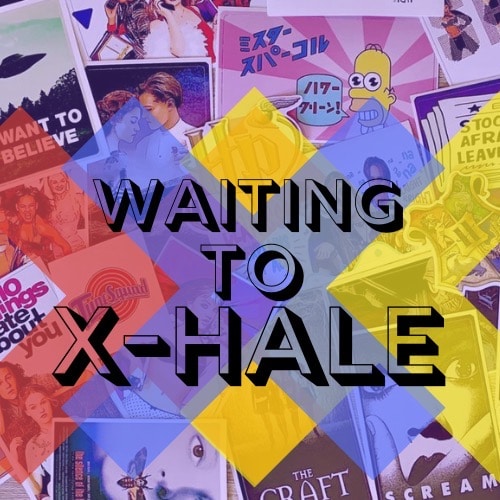 Waiting to X-hale Podcast
Waiting to X-hale is a brand new woman-of-color driven podcast hosted by Wynter Mitchell-Rohrbaugh, and Karen Tongson, revisiting the pop culture and transformative social issues that defined Generation X. Our discussions, debates, and instructional interludes will let you see your favorite (and least favorite) aspects of GenX culture in a way that sheds new light on both then, and now. A special preview episode is dropping in early June with regular episodes recurring after Karen returns from her book tour in July.
For more information, sign up for the Waiting to X-hale newsletter, and follow the show on Twitter:
@waiting2xhalepd
With Guy Branum, Karen Tongson, Margaret Wappler, Wynter Mitchell-Rohrbaugh
Produced and edited by Laura Swisher for MaximumFun.org.
About the show
Pop Rocket is a high-octane weekly discussion of the culture we all love to love. Join host Guy Branum and panelists Wynter Mitchell, Karen Tongson, and Margaret Wappler for smart, funny, sometimes sweary chat about everything great in entertainment. Combining comic, journalistic, academic, and digital media expertise, the Pop Rocket team will keep you up-to-date on what's most exciting in pop culture this week.
How to listen
Stream or download episodes directly from our website, or listen via your favorite podcatcher!