Episode notes
Micah brings the case against his girlfriend Jenny. Micah would like to buy a 3D printer for their home. Jenny thinks their apartment is too small. She thinks he should wait until they move into a bigger place.
EVIDENCE
SUBMITTED BY MICAH:
Click here to check out the printer that Micah would like. This is the space where he proposes the printer would live: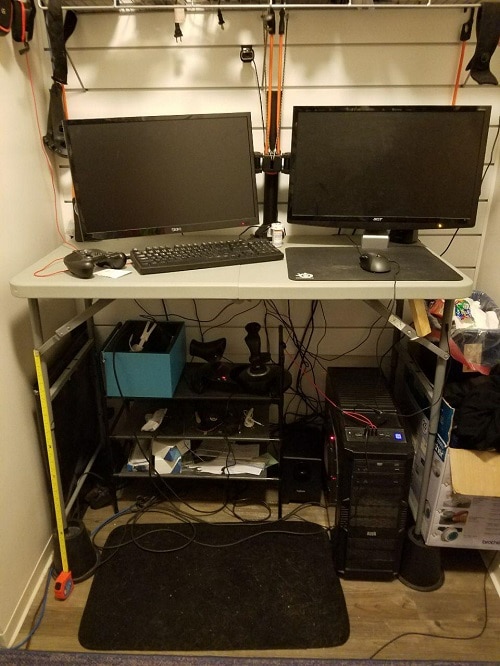 He says, ""As can be seen, the printer could comfortably fit beneath my computer desk–I would move the shelf that is currently down there to the place immediately to the right of the desk. The box that is currently in that spot would be moved to a more storage-y place since it's just holding random cords, PC parts, and other knickknacks that don't really need to be immediately accessible."
SUBMITTED BY JENNY:
"I have made a short video of what our apartment looks like with some cameos from our dog Emmett."
Click here to check out the video!
"I am also including a website with a list of places where you can 3D print. One of our friends has a membership at the Artisan's Asylum and has offered to let Micah used his space there so I've included their wiki on the machines they have."
Boston 3D printing resources
Artisan's Asylum machine wiki
Sign up for Judge Hodgman's newsletter at bit.ly/hodgmail. If you're in the Western, MA area this summer, make sure to check out the Solid Sound Festival, where Judge Hodgman is hosting the Comedy Stage. Judge Hodgman's newest book Vacationland is also available for pre-order at bit.ly/painfulbeaches.
MaxFunCon tickets are still on sale for MaxFunCon West in Lake Arrowhead and MaxFunCon East in the Poconos! Visit MaxFunCon.com for more info! Make sure to also check out You're Doing a Great Job written by Maximum Fun's very own Biz Ellis and Theresa Thorn. It's available wherever books are sold!
Thank you to Tom Brinton for suggesting this week's title! To suggest a title for a future episode, like Judge John Hodgman on Facebook. We regularly put out a call for submissions.
—
About the show
Have your pressing issues decided by Famous Minor Television Personality John Hodgman, Certified Judge. If you'd like John Hodgman to solve your pressing issue, please contact us HERE.
Follow @judgejohnhodgman on Instagram to view evidence from the cases tried in court.
How to listen
Stream or download episodes directly from our website, or listen via your favorite podcatcher!