Episode notes
Do you live in Portland (Maine), Boston, Turners Falls, Brooklyn, Philadelphia or London? Do you have a dispute you'd like to try before Judge John Hodgman LIVE? Submit your case at maximumfun.org/jjho! No case too big or too small!
Stephanie files suit against her friend Sewit. They are both members of a Las Vegas community service group that often uses raffles for fundraising. Stephanie thinks members of their group should be prohibited from entering the raffles, but Sewit has no problem with it.
With Guest Bailiffs Dave Shumka and Graham Clark of Stop Podcasting Yourself!
EVIDENCE
SUBMITTED BY STEPHANIE:
"This is a photo of our most recent raffle items. Items included San Diego Comic Con exclusives/swag plus a signed photo of Flash Gordon star Sam Jones. He donated it to us at the Las Vegas convention we were holding the raffle at because he is a total sweetheart."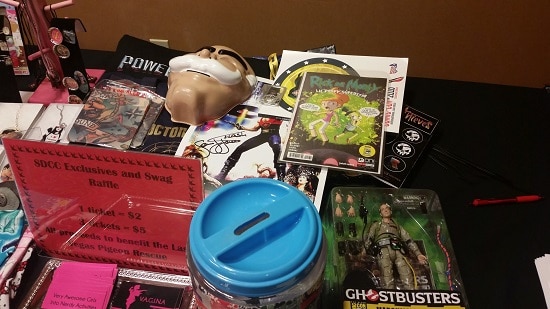 Affidavit from Very Awesome Girls member Crystella:
"I believe members should not be able to enter our own raffles because it could cause others who enter to lose trust on our group. We know we are being fair but if someone in our group wins people may feel it's unfair and lose faith in our group."
SUBMITTED BY SEWIT:
Affidavit from Very Awesome Girls member Desiree:
"I'm pro members entering our own raffles because our raffles are always intended to help a needy cause in our community. Why not get as much help as you can get?
I understand that it may look bad for one of our own members to win the raffle, but I've been told the alternative is to enter in someone else's name. Isn't being deceitful to our supporters worse?
Also, then if I do win the raffle, I have to make sure none of the prizes are ever showing in the pics I post on social media, I can't live with this paranoia!"
—
To donate to any of the causes mentioned in this episode, here's the information:
Street Teens
Street Teens is a volunteer based, non-profit organization dedicated to assisting homeless, abandoned, and at risk youth, ages 12-21, in the Las Vegas Valley. Our primary goal is to meet the survival needs of our youth by providing basic necessities in a safe, compassionate environment. The Very Awesome Girls are currently collecting school supplies for their next meeting for Street Teens.
Palomacy (Pigeon Rescue)
Palomacy (a project of Community Initiatives) is a network of volunteers working together to save the lives of domestic, unreleasable pigeons and doves that would otherwise be killed in shelters for lack of adopters. Palomacy is Bay Area based but the founder, Elizabeth Young, is helping with the new Vegas based pigeon rescue, which is still applying for non-profit status. So donations go through Palomacy.
WERU Community Radio
Judge Hodgman has been recording most of the summer from WERU Community Radio with huge help from Joel Mann. WERU is a listener supported, non-commercial radio station serving Midcoast, Downeast and Central Maine. The station was recently struck by lightning and is in the process of repairing many radio station elements that were effected.
Thank you to Ian Brodie for suggesting this week's title! To suggest a title for a future episode, like Judge John Hodgman on Facebook. We regularly put a call for submissions.
—
You can still buy tickets for the Judge John Hodgman Live Justice tour! Check out the right side of this page or JohnHodgman.com/Tour for links and more information!
About the show
Have your pressing issues decided by Famous Minor Television Personality John Hodgman, Certified Judge. If you'd like John Hodgman to solve your pressing issue, please contact us HERE.
Follow @judgejohnhodgman on Instagram to view evidence from the cases tried in court.
Get in touch with the show
How to listen
Stream or download episodes directly from our website, or listen via your favorite podcatcher!