Episode notes
Meredith brings the case against her husband Jason. Years ago, they settled a fantasy football dispute with a "pizza truce". Jason would be allowed to choose Meredith's pizza toppings for as long as they were together. Is their contract still valid?
Thanks to Amy Franco for this week's case name!
San Francisco Bay area! See Judge John Hodgman Live! Judge Hodgman will return to mete out justice as part of SF Sketchfest on Friday, February 6th at Marines Memorial Theater.
More information about the show and Sketchfest available here.
We need YOU to submit cases to be heard that evening! If you and another party
– reside in the SF Bay area, or will be able to attend the show on February 6
– have a legitimate beef, large or small
… write us with the details! Send it directly to hodgman@maximumfun.org or submit via our webform here.
VIEW THE EVIDENCE FOR THIS CASE
SUBSCRIBE TO THIS PODCAST in ITUNES or the RSS FEED
EVIDENCE
Submitted by Meredith
Exhibit A
"Screen shots from our favorite pizza place's menu (I edited out the restaurant name, to prevent buzz marketing)."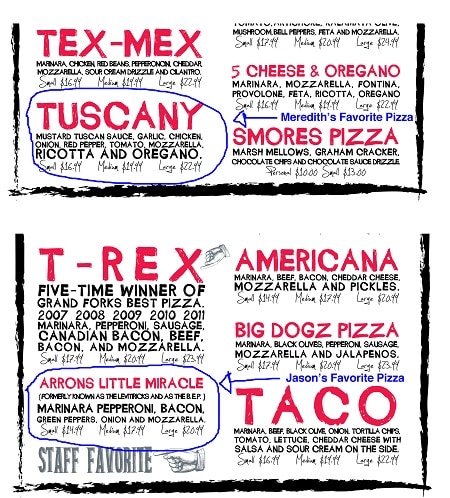 Exhibit B
About the show
Have your pressing issues decided by Famous Minor Television Personality John Hodgman, Certified Judge. If you'd like John Hodgman to solve your pressing issue, please contact us HERE.
Follow @judgejohnhodgman on Instagram to view evidence from the cases tried in court.
How to listen
Stream or download episodes directly from our website, or listen via your favorite podcatcher!