Episode notes
It's the one you've all been waiting for! Your favorite person and ours! Alie Ward is BACK and this time she has a dog! We get the full scoop on Gremlynn (aka Gremmie) and how this perfect duo came together! Plus, Crumboat updates, accidental training, and a great My Mutt Minute!
Grab a Gremlin and tune in!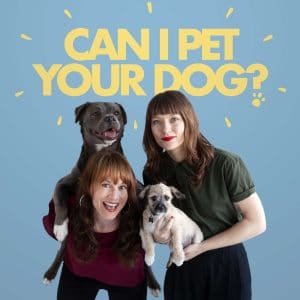 About the show
Every Tuesday, dog owner Renee Colvert and puppy owner Alexis Preston talk to guests about their dogs, discuss dogs they met this week, and brief you on dogs news. They go on assignment to dog events and report back with what you need to know. If there's a dog, they're gonna pet it!
Email them at canipetyourdogpodcast@gmail.com and follow CIPYD on Twitter @CIPYDPodcast and Instagram @CIPYDPodcast!
Get in touch with the show
How to listen
Stream or download episodes directly from our website, or listen via your favorite podcatcher!
Liked Episode 207: Alie Ward Got a Dog!? Listen to these next...
The best way to support MaxFun shows is by becoming a member…
Our shows are made by hand for you, and we appreciate your decision to give back to us.
Start a membership →
Already a member?
You could still help by…
...leaving a review on Apple Podcasts!
Leave a review →
...sharing it on social media!
Share on social media →
...purchasing a personal or promotional message on an upcoming episode!
Buy a Jumbotron →