It all started at KZSC.
When Jesse Thorn started hosting The Sound of Young America in 1999 alongside his pals at UC Santa Cruz, the college radio show seemed like an an unlikely seed for a media empire. But it sort of was.
Way back in 2004, Jesse started podcasting the show as a way of reaching maybe a few dozen more listeners beyond the confines of Santa Cruz, and Maximum Fun began its foray into what was, at the time, a small and somewhat sleepy world of on-demand audio.
TSOYA would soon cleave into the comedy show Jordan, Jesse Go! (which celebrated its 600th episode over the summer) and the culture interview show Bullseye with Jesse Thorn, which is distributed by NPR to over 150 stations across the USA. It's neat metaphor for the network as a whole – a collection of like-minded shows with a particular focus on comedy and culture programming, linked together by the values of curiosity, creativity, inclusivity, and community. These same values, and Jesse's background in public media and non-profits, (and his need to eat) inspired him to create a sustainable business model whereby audiences empower and enable the creators who enrich their lives. Since well before it could be described as a company, MaxFun and its shows have relied on community support, and placed the community at the heart of the company.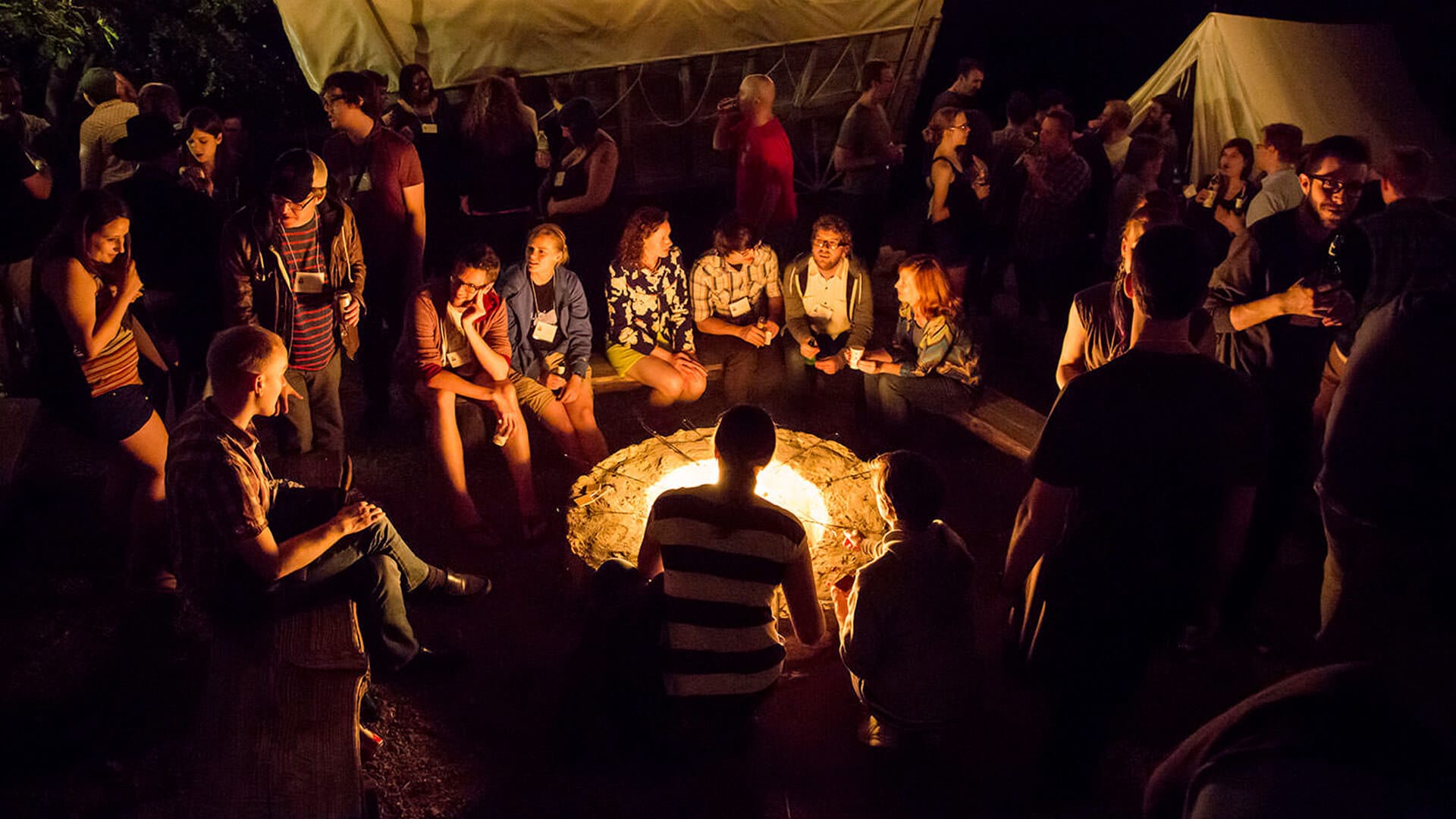 MaxFunCon 2014. Photo by Kenneth Lecky
Over time MaxFun expanded outside of podcasts. In 2009, the first MaxFunCon was held in Lake Arrowhead, California. As Maximum Fun's first event, MaxFunCon was an experiment that would lead to eleven subsequent years of MaxFunCons, including a few jaunts into the Poconos for MaxFunCon East; a one-day podcasting extravaganza in Chicago called Very Very Fun Day; and two comedy and music cruises.
Bolstered by the support of a growing community of MaxFun members, the network continued to bring kind, smart, hilarious creators to listeners, and began to develop its own slate of original podcasts, focusing on identifying and giving platforms to voices less represented in the nascent field.
In November 2019, MaxFun announced that the final regularly-scheduled MaxFunCon will take place in July of 2020. It's been an amazing run of absolutely unique events, and a continuing model for live events for the future.
In the midst of MaxFun's growth, one key aspect that remained central was the incredibly intelligent, passionate, and compassionate audience at the core of the work. In addition to being fans of MaxFun podcasts, Maximum Fun's community has shown, time and time again, a spirit of love and generosity and a desire to make the world a better place. It's yet another way the community and the company reflect and enhance one-another.
Throughout its existence, in ways large and small, MaxFun has partnered with organizations that support people in need. In recent years, the company has held annual pin sales to support the Los Angeles Regional Food Bank, the National Immigration Law Center, and the National Court Appointed Special Advocate (CASA) Association. In addition to these network-wide surges of support, individual MaxFun shows have also teamed up with their communities to support other causes like Art Division, Southern Poverty Law Center, the American Foundation for Suicide Prevention, and the American Civil Liberties Union through special live shows and merch sales.
Today, Maximum Fun distributes over 40 podcasts and continues to seek out and develop new talent, with a core mission of making the world better, through our creativity, our interactions with our local and virtual community, and our ability to direct attention and resources to the good being done in the world.