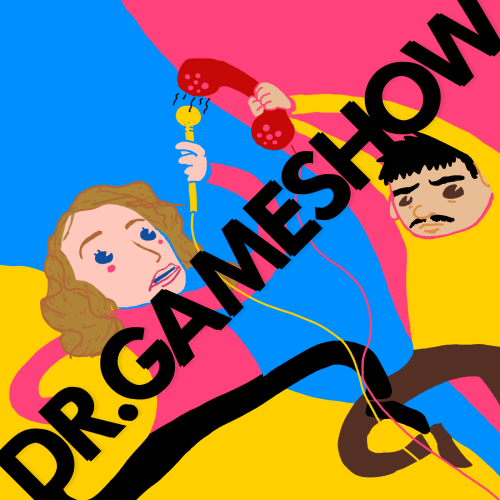 Dr. Gameshow is the perfect podcast to listen to with friends. It's like when you had your buddies come over to your dorm room in college to play Jeopardy! (that's a normal thing everyone did, right?), except the games on Dr. Gameshow are entirely made up by listeners and have a tendency to get a little bonkers. So much so, that these family-friendly games are prefaced with the disclaimer that they are "played regardless of quality or content." 
Every other Wednesday, you can listen to Jo Firestone and Manolo Moreno play original, listener-created games with their guests (who are often comedians and children) and callers (who could be you!). I asked producer Alex Adan to send along a couple of Dr. Gameshow's favorite games so you can play them at home.
If these games inspire you, you can send your original game show ideas to drgameshow@gmail.com or leave a voicemail at 256-MANOLO-1. And if you want to call in to play along with the real thing, follow Dr. Gameshow's Twitter, Instagram, and Facebook page for updates on when livestreams are scheduled.
For those of you who just want to get silly at home, here are four games from Dr. Gameshow that will be the highlight of your next game night:
Submitted by Taylor Root from Maitland, Florida
Rules
:
Guy Fieri has an opportunity to open a new theme restaurant in Times Square. He wants to base it on a popular TV show but he has run out of ideas. 
Help Guy brainstorm with this game. Name a popular TV show (not food-related) and one part of that show-themed restaurant's shtick. It could be a menu item, a bit of decor, the restaurant's name, or anything else thematic. 
Example
: 
At the Frasier restaurant, your server always says "I'm listening." when it's time to take your order. 
Scoring:
The judge says "yum" if your idea is okay. If it's not ok, they say "blech." If you win, you're the honorary mayor of Flavortown.
Submitted by Jesse Morrison from Beamsville, Ontario, Canada
Rules:
The late Andy Rooney was known in his later years for ending 60 Minutes with a rant about something that was bugging him that week. In this game you have to do exactly that. 
Pick a new fad of any kind and make a convincing argument as to why it's bad. 
Scoring:
5 points if you win over the judge. 3 points if you can nail the Andy Rooney impression. 1 point every time the phrase "back in my day" is used correctly.
Submitted by Timothy Rorie from Southaven, Mississippi
Rules:
It's time to make a celebrity zoo! You take turns changing celebrities into their animal versions. 
Example
: 
Brad Pitt becomes Bird Pitt.
Scoring:
You get a point for every celebrity you can change. If you get 5 points, you've made a zoo! Make your favorite animal sound when you win.
Submitted by Mallory Corr from Doylestown, Pennyslvania
Rules:
Beep beep. In this game the first player comes up with a novelty license plate that a fictional character would have. The other players guess who the character is. 
Example:
 Sleeping Beauty might have a plate that says 'LUV2ZZZ'. 
Scoring:
You win if you correctly guess the character. If you guess incorrectly, you have another chance to win by creatively describing the vehicle the character would drive.