Yanni: Live at the Acropolis 2: Live at the Grand Canyon Without Yanni
Maximum Fun is proud to announce our most astonishing MaxFunDrive event ever:
Yanni: Live at the Acropolis 2:
Live at the Grand Canyon Without Yanni
On Thursday, MaximumFun.org blew past our initial MaxFunDrive goal of 10,000 new and upgrading donors, so we've raised the stakes. If we hit our stretch goal of twenty thousand new and upgrading donors, we will stage history's greatest podcast spectacular: a live podcast taping at the Grand Canyon. In the shadow of nature's grandeur, MaxFun hosts Erin Gibson, Travis McElroy, Jesse Thorn and Stuart Wellington will jape and jibe, to the delight of a live audience.
All will be welcome to attend this epochal podcasting event, but five lucky individuals will be able to do so in true MaxFun style: every MaxFun supporter will be entered into a drawing to win one of five dream trips to the show, including a luxury bus ticket and two-star accommodations at the Motel Six in Williams, Arizona. To top it all off, each winner will also receive a complimentary burro rental for the arduous journey through the canyon.
You can join the drive at MaximumFun.org/Donate.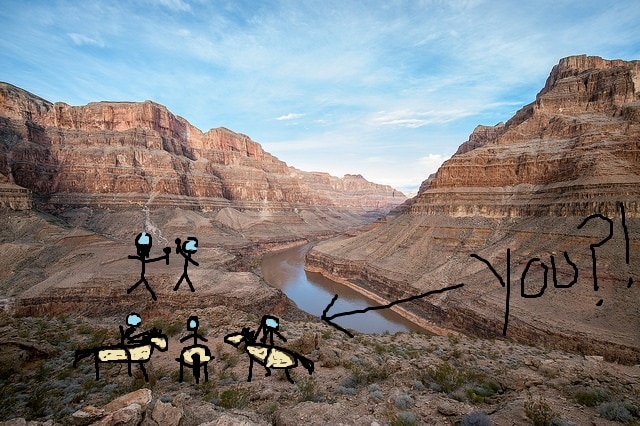 All current, new, and upgrading members are automatically entered in the drawing. No purchase or donation is necessary to enter. To enter without purchase, simply email holyshit@maximumfun.org by 12pm PDT, April 3, 2017. View complete rules at maximumfun.org/holyshitrules.